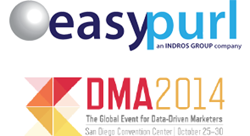 New York, NY (PRWEB) October 21, 2014
Easypurl, industry-leading provider of Integrated Marketing software and services, will be continuing its longstanding support of the Direct Marketing Association with an exhibit in Booth #1170 at DMA2014 -- the Direct Marketing Association's national conference held this year in San Diego, California from Sunday October 25 – Thursday Oct 30th.
Easypurl's exhibit at the DMA 2014, Booth #1107 will feature live demonstrations of Easypurl's innovative Integrated Marketing solutions and software -- as well as Free Giveaways. Also, attendees who register with Easypurl at DMA2014 may be entitled to limited-time discounts on Easypurl software and services.
To arrange a meeting or private demonstration at DMA2014, contact sales(at)easypurl(dot)com, call us (866) 463-7671 or visit http://www.thedma14.com.
About Easypurl
Easypurl is a subsidiary of Indros Group, and is based in Brooklyn, NY. Easypurl's software and services empower agencies, printers, and marketing service providers to create and deploy highly personalized integrated marketing campaigns across channels including print, email, web, mobile, social and more. Its flagship product, Easypurl 8, is the world's leading integrated marketing platform – and has enabled over 50,000 campaigns for over 800 agencies and thousands of brands worldwide.
For more information about Easypurl, please visit http://www.easypurl.com.
For information about this release, or to schedule an interview, contact Easypurl: press(at)easypurl(dot)com.