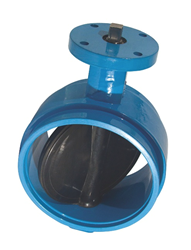 CHARLOTTE, N.C. (PRWEB) October 22, 2014
Bonomi North America has introduced a new series of grooved-end butterfly valves for use in commercial and light industrial applications. The new valves are built with an ISO mounting pad and stem for simple automation with electric or pneumatic actuators.
Standard features of the new Bonomi Series L700E Series include an epoxy-coated ductile iron body, EDPM-coated ductile iron disc, and a 410 stainless steel ISO square stem. An ISO 5211 mounting pad is integral, making it easy to add any ISO 5211 standard actuator or manual operator. A BUNA-N coated disc is optional.
Available in sizes 2" to 12", the L700E is designed to meet ANSI/AWWA C606 and MSS SP-67. Typical applications include hot and cold water, HVAC, chilled water, and fire protection systems.
Maximum working pressure is 200 PSI. All Bonomi butterfly valves are tested to 100 percent of their rated pressure before shipping.
Bonomi is one of the very few fully integrated manufacturers of both electric and pneumatic actuators and direct mount valves. The L700E can be easily performance-matched to the company's Valbia-brand actuators for optimal performance, long life and quiet operation.
About Bonomi North America
Bonomi North America has served the U.S. and Canada since 2003 and is part of the Bonomi Group of Brescia, Italy. Bonomi Group brands include Rubinetterie Bresciane Bonomi (RB) brass ball valves and check valves; Valpres carbon and stainless steel ball valves; and Valbia pneumatic and electric industrial actuators. Bonomi North America maintains an extensive distribution network for these products from its headquarters in Charlotte, N.C. and a facility in Oakville, Ontario, Canada.
For more information on the Bonomi L700E series or other Bonomi products, contact Bonomi North America at (704) 412-9031 or visit http://www.bonominorthamerica.com.
[end]