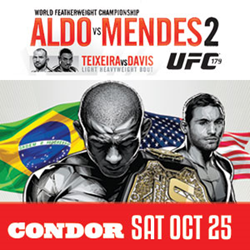 San Francisco, CA (PRWEB) October 20, 2014
Condor Club in San Francisco is once again the number-one place for all UFC fights. On Saturday, Oct. 25, the club will be screening UFC 179 – Aldo vs. Mendes 2. They invite fans and guests to come down and join them for an unforgettable experience.
In this World Featherweight Championship, Jose "Junior" Aldo will take on Chad "Money" Mendes in a fight for the title. Aldo is the defending champion and is facing Mendes in Rio de Janeiro, the same location of their first match in 2012, when Aldo defeated Mendes in a first round KO. In the co-main event, Glover Teixeira will face Phil Davis in a light heavyweight bout.
"We're very excited to bring this UFC Fight to Condor Club," said Axel Sang, Director of Marketing for BSC Management. "With our amazing high-definition 90 inch screens with sound, you'll feel like you're right in the action!"
Condor Club is screening the fight live on pay-per-view from the Maracanzinho in Brazil. Guests can join the Condor Ring Girls and watch the fights with great company. There will also be food and drink specials available during fight time. For $9.95, guests can get a draft beer and either a burger or wings.
The fight will begin at 6 p.m. on Saturday, Oct. 25. Fans are encouraged to reserve a table for the fight, so they do not miss out on their chance to witness this exciting event. Visit their website for more information.
About Us: Condor is San Francisco's original gentleman's club. In 1964, they became the first topless club in the United States. Since then, they have provided the Bay Area with quality adult entertainment and superior service. The club features a VIP lounge, champagne rooms, bottle service, topless dancing and concierge services, all in an effort to provide their guests with a special and exclusive experience. Everyone is sure to have a good time at Condor. With live music, a full bar and restaurant and topless adult entertainment, there's no better gentleman's club around. Condor Gentleman's Club is open 6 p.m. – 2 a.m. Monday through Wednesday and 12 p.m. – 2 a.m. Thursday to Sunday. For more information, visit their website or call 415-781-8222.