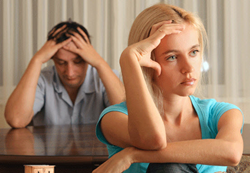 "An online division process helps take the in-person emotional charge out of the equation" - Keri Kettle, divorce and mediation attorney
Los Angeles, CA (PRWEB) October 22, 2014
DivvyMaster.com will launch its recently patented online division tools in 2015 to help couples in contentious division battles, or to just simplify collaborative divorce divisions. The method combines Emotional Value and Monetary Value approaches to fairly dividing the personal property of a divorcing couple, and it is done online taking the in-person emotional charge out of the equation.
David MacMahan, founder of DivvyMaster.com says divorce divisions often have strong emotional charges associated with the process of dividing the household items; often much stronger than in estates where over half of the items are donated or sold. He says: "the strong charge is reasonable on many levels; both parties need most of the items in a home to start their own new home, and there are often strong feelings of loss of dreams and money associated with every action."
California divorce and mediation attorney, Keri Kettle specializes in collaborative divorce efforts for couples and has a divorce support site,"Holding Your Grace". She says: "If there are children, there can sometimes be an almost desperate desire to keep things familiar in the new home for the children, so even an old beat up chest of drawers might be strongly desired by both for a child's room. The DivvyMaster sytem will help us assure both parties that each is being fairly treated while dividing, and it is great that they don't have to be in the same room to have that happen"
David speaks in more detail about DivvyMaster in divorce divisions in this informative video-click here to view.
About DivvyMaster.com:
In early 2010 founder David MacMahan committed himself to exploring ideas to help reduce the time and expense around divorce and death, at the very least. The loftier goal became to come up with a system to reduce the emotional pain and resentment so often created in the process. In the process of exploring how this could work, he realized that a web-based application had so many advantages. The "accessed from anywhere" could reduce face to face negotiations which can sometimes cause the problem. Divorcing parents can be challenged to be in the same room, so for this painful and challenging part, why should they be. The web made it possible for http://www.DivvyMaster.com to be a blind, impartial system, equally fair and accessible to both parties.