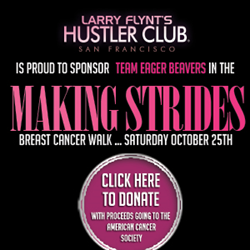 San Francisco, CA (PRWEB) October 20, 2014
Larry Flynt's Hustler Club in San Francisco is proud to announce that their management, staff and the Hustler Honeys will all be taking part in the Making Strides Against Breast Cancer walk on Saturday, Oct. 25.
The club's team is called Team Eager Beavers, and they are hoping to raise $2,500 for the cause. Currently, they have raised $620 and counting. All proceeds will be going to the American Cancer Society.
Making Strides Against Breast Cancer holds events across the country to raise awareness for breast cancer, honor breast cancer survivors and raise money to help fight the disease.
"We're joining the Making Strides Walk to show our support for such an important cause," said Axel Sang, Director of Marketing at BSC Management. "We know that everyone in someway has been affected by breast cancer and we just want to do our part to help fight this disease and we encourage others to do the same. "
The Making Strides walk will begin at 8:30 a.m. Saturday, Oct. 25 at Hellman Hollow, located at 50 Overlook Drive, San Francisco, CA. There are currently 329 teams and 1,722 participants. Visit the Team Eager Beavers page to make a donation and learn more about the event. For more information, visit the Hustler Club website.
About Us: Larry Flynt's Hustler Club San Francisco is a world famous gentleman's club which delivers the ultimate adult entertainment experience to all their guests. Located in the North Beach district of San Francisco, The Hustler Club features a full bar, valet parking, private VIP booths, party packages, free limo service, concierge service and VIP bottle service. Home to the stunning Hustler Honeys, the party at The Hustler Club never truly stops, offering San Francisco's true afterhours entertainment until 5 a.m. all weekend long. Hustler Club San Francisco is always ready to accommodate all their guests and show them a great time. To learn more about Larry Flynt's Hustler Club San Francisco, visit their website.