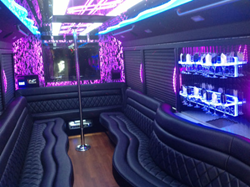 # 1 Party Bus in Orlando
Orlando, FL (PRWEB) October 21, 2014
It got just a lot more fun to party in style in Orlando. Super Star Limousine has announced it has added an extravagant 24 passenger party bus to its Orlando limousine fleet. This new party bus is customized from the ground up. For instance, this bus has diamond plated steps so that passengers board in style. Also, the exterior features beautiful wheels, custom headlights, and a perfect paint design to provide plenty of selfie moments in one of the most popular looking rides in town.
Inside the bus are 50 inch LED HD TVs which provide passengers an outstanding viewing experience from any angle. Along with these fancy TVs, Super Star Limo provides the X-Box One and the PS4 so that gamers can play top notch games on the newest consoles available. Most party buses are equipped with generic LED lights inside the passenger area. Super Star's new party bus comes with dance floor lighting and strobes so that passengers can dance like they're at the club. This new bus is also equipped with a removable lighted stripper pole, so that riders can practice their dynamic dance moves. The 2 tone leather seating and glass ceiling provides a comfortable sparkling ride, and there are privacy shades for the passenger windows. Super Star Limo's top priority is safety for the passengers. For example, this party bus is DOT certified and inspected, and contains three emergency exit doors.
"Super Star Limo has always had one of the most stylish limo fleets in Orlando," said John Brown, Business Development Manager of Super Star Limo. "This customized party bus enables our clients to travel safely and in comfort - not to mention in extreme style. It's truly an unforgettable experience to ride in this vehicle."
This customized party bus limousine is perfect for prom, weddings, bachelor / bachelorette parties, birthday parties, or nights out on the town. Super Star Limo also has a wide variety of vehicles in the Orlando area including: sedans, SUVs, vans, limousines, SUV limousines, party buses, mini coach and coach buses.
About Super Star Limo Service
Super Star Limo Service has grown to be one of the foremost providers of limousine services in the Orlando area. Super Star Limo specializes in limo rental services for people who choose luxurious travel in Central Florida.
Super Star Limo Service has a fleet of luxury limousines containing a substantial selection of elegant amenities. are available 24 hours a day, 365 days a year for the Central Florida area. The professional drivers of Super Star Limo provide first class service to their passenger while exceeding expectations.
Contact Info for Super Star Limo Service
Phone: (407) 207-5466
Hours: 24 hours Monday – Sunday