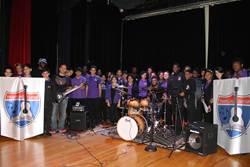 It's wonderful when I have the opportunity to return home and give the gift of music education back to my community," said Marks."Being able to put new equipment in their hands empowers them to develop a relationship with an instrument and a love of music.
Elizabeth, N.J. (PRWEB) October 21, 2014
Rock / Metal guitarist Damon Marks and his non-profit Traveling Guitar Foundation along with sponsors Schecter Guitars, Mogami Cable, Guitar Center, EMG Pickups and Mesa Boogie to donate (25) electric guitars and bass guitars, instrument cables and various percussion to schools in Elizabeth, NJ
The Traveling Guitar Foundation (TGF) will be returning to Elizabeth, New Jersey, the hometown of guitarist and founder Damon Marks, to inspire students through music education and make generous donations of brand new Schecter guitars, percussion instruments provided by Guitar Center, Vic Firth and Conn-Selmer and Mogami instrument cables to four music programs at Elizabeth Public Schools.
The special events, including a special performance workshop and the donation of musical supplies, will take place at Thomas Jefferson Arts Academy (860 Cross Avenue) on October 17, John E. Dwyer Technology Academy (123 Pearl Street) on October 24, Elizabeth High School (447 Richmond Street) on October 31, and Jerome Dunn Academy School No. 9 (125 Third Street) on November 21.
Prior to the Friday October 24th appearance at Dwyer Technology Academy, at 11:30am a commemorative ceremony will be held by Christian Bollwage, the mayor of the city of Elizabeth at 123 Pearl Street in which the street will be named in honor of Marks for his contributions to music education at the Elizabeth Public Schools and beyond through TGF.
Renowned guitarist/songwriter Damon Marks, founder of TGF will present the guitars and equipment and perform to Jefferson Arts Academy, Dwyer Technology Academy, EHS and School No. 9. Marks developed his love of music while a student of the Elizabeth Public Schools.
"It is always wonderful when I have the opportunity to return home and give the gift of music and music education back to my community," said Marks. "The kids are always super excited during the live performances we do during each school visit, which includes participation by their own peers, and just being able to put new equipment into their hands empowers them to develop a relationship with an instrument and a love of music."
In 2013, TGF made generous donations of Schecter guitars and Mogami cables to Madison Monroe School No. 16, Robert Morris School No. 18, John Marshall School No. 20, and Ronald Reagan Academy School No. 30.
One of the artists appearing with Marks will be:
Charles "DJ Runna" Blake – DJ, Producer, and Music Curator
As a young child growing up in Brooklyn, DJ Runna idolized some of the most influential DJs of all time. He began diligently studying the craft of deejaying in his teen years, and knew that in order to rise like his icons; he had to capture audiences as they did. His genuine love for music made this more than just a hobby, it has become a passion. He quickly became captivated with the crowd's reaction to his way of deejaying and has not looked back since.
Never to shy away from an opportunity, DJ Runna has been the exclusive tour DJ of Grammy Award Winning Producer and Hip Hop Artist, Swizz Beatz, for six consecutive years. DJ Runna travels the world, not only deejaying with Swizz Beatz, but also commanding crowds of his own having played at some of the most exclusive venues. Since 2002, DJ Runna has taken the party scene to the next level, having performed at clubs and venues worldwide, including appearances in New York, Los Angeles, Las Vegas, Paris, South Africa, Tokyo, Malaysia, London, Puerto Rico and Berlin.
He most recently had the honor of deejaying at Macy's Herald Square for Alicia Keys
Perfume Launch with Givenchy. DJ Runna has often quoted Jamie Paolinetti. "Limitations live only in our minds. But if we use our imaginations, our possibilities become endless." A rising star in music, as well as fashion, media and nightlife, DJ Runna definitely uses his imagination to explore all realms. He has gained worldwide praise for fascinating crowds, his ability to connect with any audience, and naturally blending musical genres, no matter the crowd or venue.
Schecter Guitars President Michael Ciravolo said: "We are proud to partner with Damon and his Foundation. He is doing some really great things. Kids, Pets and Vets are close and dear to our hearts here at Schecter, so when he approached us to be a part …we happily jumped in!"
Elizabeth Board of Education President Tony Monteiro is excited to have the Traveling Guitar Foundation back at the Elizabeth Public Schools and believes Marks' path to success could be inspirational to Elizabeth Public students.
"We are very pleased that Damon Marks and the Traveling Guitar Foundation will be returning to several of our schools this year to donate guitars and music equipment to various programs in our district," said Monteiro. "It is always great to welcome back a former Elizabeth Public Schools student who has made a successful career for himself and is willing to share his success with our current students and show them that students who go through our schools can achieve their dreams through dedication and hard work."
For further information on Elizabeth Public Schools please visit http://www.epsnj.org.
#######
The Importance of Music Education In Schools:
Music participation provides a unique opportunity for literacy preparation. Playing instruments and adding movement to the lessons teaches children about sequential learning which is essential in reading comprehension. A recent study from the University of California found that music trains the brain for higher forms of thinking. Second graders who were given music lessons scored 27% higher on proportional math and fractions tests than children who received no special instruction. Research indicates that musical training permanently wires a young mind for enhanced performance and intellectual growth.
About Traveling Guitar Founder Damon Marks:
Damon began playing the guitar passionately when he was ten years old. Since a young age, Damon has utilized his musical abilities in tandem with his impressive business acumen to achieve tremendous success in the music industry. Throughout his career, Damon has worked with a diverse range of very notable artists. In 2008, Damon helped launch the female-fronted rock band, Lipstick Magazine. Damon co-produced the band's debut album, Skin Deep, alongside Grammy Award winning recording engineer and Multi-platinum producer Mike Plotnikoff. Damon also helped orchestrate the worldwide release of, Skin Deep. Skin Deep was also distributed nationally, digitally on Itunes and physically in both Wal-Mart and Best Buy stores. In support of the album, Lipstick Magazine undertook a national tour in which they opened for heavy metal icons such as Bret Michaels, Extreme, Ratt, Winger, DangerDanger, Jani Lane of Warrant, Doro Pesche, UFO and YES. In early 2010, Damon played guitar for R&B recording artist and winner of NBC's Season Two of "The Voice", Jermaine Paul, the opening act for Alicia Keys "Freedom Tour". As a part of the tour, Damon played in numerous world-renowned arenas such as Madison Square Garden in New York, Los Angeles, Las Vegas and Germany. In 2013, Damon went on his first celebrity USO tour to Ramstein Airbase in Germany where he performed for and donated (20) new guitars to troops at (7) military installations and military schools.
In 2010, Damon founded the Traveling Guitar Foundation. The Traveling Guitar Foundation is a 501(c)(3) nonprofit organization that works to ensure that school children have access to high-quality musical instruments and instruction during a time when school systems across the country are facing budgetary restraints. Initially, the Foundation established a substantial presence in the New York tri state area. However, the Foundation's profile has grown to an international level, with in school guitar, percussion and instrument cable donations and clinics taking place all over the country and abroad. Due to its extreme importance, the artists Damon has worked with musically and played guitar for have given major support to Traveling Guitar Foundation. Artists like Alicia Keys, Swizz Beatz, Daryl "DMC" McDaniel, Heart, Melanie Fiona, Leon Thomas III, Ariana Grande, Mike Reid, Victoria Justice, Mariah Carey, Michael Bolton and Rick Springfield. Moreover, superstar athletes such as Allan Houston, David Tyree, Alonzo Mourning and Dikembe Mutombo have also taken notice of the Foundation's mission and work. To date the Traveling Guitar Foundation has donated over 400 new guitars, positively impacted over 30,000 students, and has worked in over 100 schools throughout the USA and abroad.
The Traveling Guitar Foundation has secured and maintained sponsorships with Schecter Guitars, Burbank Marriott Hotel, Guitar Center, Mogami Cable, EMG Pickups and Mesa Boogie Amplifiers.
You can learn more about The Traveling Guitar Foundation by visiting http://www.travelingguitarfoundation.org.