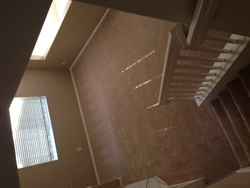 Walked in to find a note on the floor simply stating "We're done" and everything gone.
Los Angeles, CA (PRWEB) October 31, 2014
The new ListStuffFast app creator David MacMahan says he had a friend a few years ago that described coming home to a totally empty house, wife gone, and with a short "We're done" note lying on the barren floor. Even trying to recreate and deal with what should have been fair afterwards was impossible with no documented home contents his friend told him. His friend wished there had been some hint that things were going south so that maybe he would have had the idea to document everything. Unfortunately in his case, poor guy never saw it coming.
MacMahan suggests that the situation above is fairly rare in divorces, but does happen. It actually happens more often in estates, when a long lost relative or entitled sibling shows up with a moving truck and empties the house after a death. In divorce or estate cases, a fifteen to twenty minute walk through the house with the ListStuffFast app ahead of time could have everything documented to help with rectifying fairly. In addition, even when all is amicable, in both divorce and estate divisions personal property lists are typically required by the courts MacMahan says.
More and more divorces today are amicable in nature, but not all. "For amicable divorces, the legal dissolution paperwork is not the hard part, it is dividing the personal property from one house and creating two comfortable homes from that", says divorce attorney and mediator Keri Kettle. Keri also talks about ways to move on positively after a divorce at her site,"HoldingYourGrace", and suggests that if a couple can do it, the ListStuffFast app provides an easy, affordable way to go through the house together taking turns choosing items fairly.
ListStuffFast was created for those "what if" scenarios and everyday documentation needs, where it is good to have an organized room by room photo record in case it is needed. It is then ready to list items, values and generate reports created from the photos. Julie Hall, known as "The Estate Lady" notes in her book, The Boomer Burden, "fewer than 20% of the estates I have handled have gone smoothly". Bickering between relatives is the norm, not the exception. Ms. Hall relays stories of relatives, domestic help, caregivers, and even neighbors taking things, and says it happens more than we would like to think after a death, and even beforehand.
Vacation Rental expert and 1ChicRetreat.com founder Mercedes Brennan also recommends ListStuffFast for owners and even renters of furnished homes. She likens the ListStuffFast 10-15 minute photographic walk through to the walk around required when renting a car. For a rental property owner, it is documenting what is there and its condition for the peace of mind of both owner and renter.
ListStuffFast app for Asset Listing Made Easy, was created by DivvyMaster.com whose slogan is "Divide Things, Not Families" . DivvyMaster was founded in 2010 and was issued a US Patent this year for its online division software launching in 2015. The online tools will allow equitable division of personal property for estates, divorces and downsizing, without the need for parties to be present or be mailed thick packets to review.