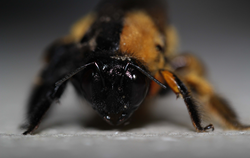 Santa Monica, California (PRWEB) October 22, 2014
New Roads School students and amateur entomologists Will Pulier, Craig Barrett and Justin An made an important discovery on campus in early October. The 10th grade students found a large bee crawling around on campus, collected it in a cup and brought it to their biology teacher, Eric Cleveland. Together, they identified the insect as a Carpenter Bee of the genus Xylocopa – nothing unusual there. Upon closer examination to determine the gender of the bee, teacher and students discovered that they had found a very rare form of the insect, a mosiac gynandromorphy.
Eric explains, "During the development of the insect egg, there is a mistake separation of male chromosomes from female. Consequently, the left side of the bee has the yellow look of the male while the right side is black, a characteristic of the female of the species." Eric immediately contacted the Los Angeles County Natural History Museum to tell them of the students' discovery. Dr. Brian Brown, Head Curator of the Entomology Collection, was extremely interested in the find and collected the rare bee to verify it is indeed a mosaic gynandromorphy.
The "New Roads Bee" is now a member of the Natural History Museum's permanent gynandromorphy collection, letting insect enthusiasts and scholars alike witness firsthand one of nature's most unusual insect variants. Acclaimed actress Isabella Rossellini even discussed the New Roads Bee in a recent presentation at the Natural History Museum about gender oddities in the natural world.
Student scientists Justin, Will and Craig are now dedicated bug hunting enthusiasts. Will says, "Making a scientific discovery is much more exciting than just reading about biology in a book. Experiencing something firsthand and feeling like I found something unique makes me want to learn more."
About New Roads School
New Roads School is an innovative, college preparatory K-12 independent school serving more than 650 students on campuses in West Los Angeles (grades K-5) and Santa Monica (grades 6-12), California. New Roads is committed to nurturing the curiosity of each student while delivering top-quality education to a student body representing the broad economic and cultural diversity of Greater Los Angeles. To back up that commitment, New Roads devotes approximately 50% of its tuition dollars to need-based financial aid each year.