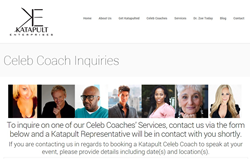 "I've hand selected coaches who are experts in different key niche areas to be sure we can continue to stay on the leading-edge of providing Ultra-Exclusive Services for the High Profile Lifestyle." Dr. ZoeLena Shuster, President of Katapult Enterprises
New York, New York (PRWEB) October 21, 2014
Katapult Enterprises, a leading life coaching, marketing and branding company is pleased to announce the joining of new celebrity coaches. Dr. ZoeLena Shuster "Dr. Zoe", the company's President & Founder, is "The Confidential Coach" to Celebs in business, sports, entertainment, religion and politics worldwide. These new coaches will also provide high-end, 1 on 1 coaching to their clients in order to help them experience greater success by learning how to focus, organize, meditate, deal with media and visually map out their life.
Some of the new celebrity coaches being introduced to the Katapult team are:
Randy White: A former Bishop to the Stars and co-founder, along with ex-wife Paula White, of "Without Walls International Church" will serve as Katapult's Organization Building Consultant and also will be available for life success seminars. When asked about this partnership, Randy exclaims, "Extremely excited about joining the Katapult team, anxious to share the experience of over forty life crises which took me into the depths of despair! The lessons I've learned are the principles that I will be teaching to take you to the pinnacle of success. Everyone has a purpose in life. My personal major mission is to see that everyone I speak to or mentor becomes the ultimate success they desire to be! Their dreams will become a reality and they will be more than a conqueror!"
Donnell Rawlings: A renowned actor/comedian, seen on the Chappelle Show and currently on MTV's Guy Code and Guy Court, will serve as Katapult's Quality of Life Coach, where he will improve life skills and lifestyle of individuals. "Feel like I have a future with Katapult Enterprises! Don't believe me, just watch!" Donnell tells sources.
Justin Jedlica: Also known as "The Human Ken Doll" who has undergone over 175 cosmetic procedures will serve as Katapult's Cosmetic and Plastic Surgery Consultant. Justin knows that your body is your temple & he's here to act as the architect - your design specialist.
Chasity Melvin: A former professional basketball player and WNBA Hall of Famer will serve as Katapult's Sports, Transition & Confidence Coach. "I'm so ecstatic, empowered, inspired... about joining the Katapult Team and being part of a movement that will help others live out their purpose, fulfilling their dreams." Chasity says of her new position.
Hattie RetroAge: Winner of Roseland Over 50 Bathing Suit Beauty Contest, and known as "America's Top Cougar" will serve as Katapult's Master Anti-Aging Coach, using a holistic approach.
Tiffany Brown: A compassionate and caring matchmaker, with a focus on her client's personal goals and needs in the area of love, will serve as Katapult's Matchmaker.
For more information, simply visit: http://KatapultCelebCoaches.com
About Katapult Enterprises
Founded by Dr. ZoeLena Shuster, Katapult Enterprises is a leading company that specializes in offering high-end 1 on 1 confidential coaching for industry leaders in Business, sports, entertainment, religion and politics. It has coached some of the most influential leaders of the world and helped them achieve their goals. Katapult also certifies life coaches Internationally.