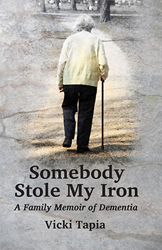 The goal is to offer hope to those whose lives have been intimately affected by dementia, letting them know that they are not alone.
Amarillo, Texas (PRWEB) October 23, 2014
In the memoir Somebody Stole My Iron, published by Praeclarus Press, Vicki Tapia shared her family's journey with dementia. Tapia offers her personal experiences, resources for coping, and support to others in the same situation. Her work resonates with a population of Americans who are becoming increasingly dependent on caregivers, as well as the caregivers themselves.
Most recently, Tapia was invited in her hometown of Billings, Montana to discuss dementia awareness and her personal experience as related in her book. She focused on how to increase dementia awareness--recognizing the difference between normal aging and signs of dementia though interweaving stories of how her family missed the signs of dementia in her parents. Tapia also discussed why early diagnosis is important and key to helping patients live better day-to-day lives with this disease.
Tapia shared three excerpts from Somebody Stole My Iron, all highlighting the challenges she faced at various stages of her mother's illness. First, when her parents received the "hand-me-down" computer and resultant "glitches" Mom had operating it. Second, when her mother accused her of stealing their money which led her to a place where she had to learn how to accept her parents' disabilities. Third, when her mother didn't want to eat, but was in some ways, being forced into it, and the questions that raised about how our society deals with death and examining why we make the choices we do. The audience was also given the chance for a question and answer session after Tapia shared her story.
To learn more about Tapia's memoir visit http://www.SomebodyStoleMyIron.com and to purchase the book or hear her webinar on dementia, Caregiver Condundrum, please visit http://www.praeclaruspress.com
Vicki Tapia, a breastfeeding educator for over 30 years, found her energies redirected towards the other end of life when both her parents were diagnosed with dementia. She recently retired from the pediatric clinic where she has worked since 1989 to focus on writing and other as-yet undiscovered adventures. The mother of three grown children, and four grandchildren, she lives with her husband and Mini-Schnauzer in south central Montana.
Praeclarus Press is a small press founded by Kathleen Kendall-Tackett, Ph.D., IBCLC, FAPA and specializes in women's health. It features books, webinars, and products that support women's health throughout their lifespan. Based in Amarillo, Texas, the mission of Praeclarus Press is to produce materials that change women's lives.