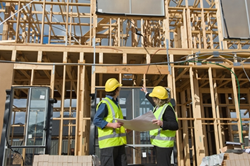 Although some builders may have a more dire opinion of sales conditions, NAHB Chairman Kevin Kelly said the current pace of the housing market is appropriate
Chicago, IL (PRWEB) October 21, 2014
The latest National Association of Home Builders/Wells Fargo Housing Market Index revealed a decline in October, but builders and lender, The Federal Savings Bank, still have good feelings toward the U.S. real estate industry.
In October, the index fell five points from September to 54 points. The drop followed four months of consecutive gains and signals positive builder sentiment given the score remains above the benchmark 50 points.
"While there was a dip this month, builders are still positive about the housing market," said David Crowe, NAHB chief economist. "After the HMI posted a nine-year high in September, it's not surprising to see the number drop in October."
Crowe went on to say current market conditions signal future growth. These signs include historically low mortgage rates, pent-up demand and steady improvements in the employment sector. The last point is noticeable, as the Bureau of Labor Statistics reported the unemployment rate dropped below 6 percent for the first time since 2008 in September. Additionally, total nonfarm payroll employment increased by 248,000 positions during that month.
Sales and buyer traffic sentiment drops
The overall decline in the HMI was driven by declines in each of the three categories ranked by builders. Here is a breakdown of the data:
The index measuring traffic of prospective home buyers fell six points to 41 points between September and October. The current sales conditions index fell from 63 points to 57 points. There was a three-point decline for the future sales index, which brought it to 64 points.
Many builders don't believe they'll make their sales goals, Jody Kahn, vice president at John Burns Real Estate Consulting Inc., said, according to The Wall Street Journal on Oct 16. The upside for buyers is builders are finding ways to cater to them and move some inventory before the end of the year.
"I'm already seeing signs of that year-end mentality of pushing homes that can close by year end and using (sales) incentives to do that," Kahn said.
Although some builders may have a more dire opinion of sales conditions, NAHB Chairman Kevin Kelly said the current pace of the housing market is appropriate.
"We are seeing a return to the mid-50s index level trend established earlier in the summer, which is in line with the gradual pace of the housing recovery," he explained.
The Federal Savings Bank found the slight decline a constructive pause to what was a steady increase up from March. Conditions continue to show that the market is in an uptrend.
For information about getting financing while mortgage rates are in the low ranges, contact the Federal Savings Bank, a veteran owned bank.