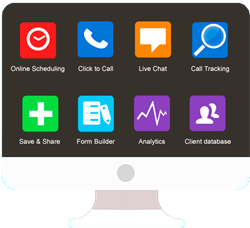 (PRWEB) October 21, 2014
The Agendize plans now give users access to all its applications, allowing businesses to maximize online conversion. Davy Bour, Sales & Marketing Director, comments "Our new all-in-one plans enable businesses to multiply their touch-points online. They can connect with their visitors via appointments, calls, chats and online forms - so they can make the most of their online presence with plans that are adapted and grow with their needs."
All-in-one platform
Agendize is a complete platform of online conversion tools - featuring Online Scheduling, Click-to-Call, Live Chat, Call Tracking and Form Builder. The Agendize applications allow businesses to connect with their customers and visitors online. The platform is also equipped with Analytics, CRM and Emailing functionalities. The new Agendize plans provide users access to all these applications.
Simple scalable plans
Agendize offers simple and scalable plans. The Starter, Pro and Premier plans - starting at $50 per month - allow businesses to choose the number of users, locations, as well as the level support that is adapted to their needs. These plans also grow with business needs and can be upgraded at any time. For each plan, a 30-day free trial is available - no credit card required.
Additional services
Agendize also provides fulfillment, training and consultancy services to help users get the most from the application. A Do-It-For-Me service is available for companies looking for a turn-key solution. Additionally, training sessions are available to ensure users make the most of the platform. Finally, customers looking to receive on-going expert guidance can request consultancy packs.
Partners
Leading digital players worldwide offer the Agendize suite of applications as a white and private-label solution thanks to a mature set of APIs. Inquire for partner opportunities.
To get more information on Agendize new plans: http://www.agendize.com/pricing
Information on the Online Scheduling : http://www.agendize.com/platform/online-appointment-scheduling-software