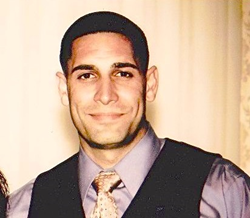 I knew that there had to be a more effective way to keep our children safe
Palo Alto, California (PRWEB) October 22, 2014
With all the talk of the Ebola virus and Isis in the media, issues like school safety can sometimes be forgotten. For Michael Jacobs, keeping our students safe remains a priority. After hearing about the Sandy Hook Elementary school shooting in 2012, all Michael could think of doing was running to his son's school to make sure that he and his classmates were okay. As a father, the last thing that he wanted to hear about was that a child had been the victim of violence. "I knew that there had to be a more effective way to keep our children safe while in school, so I started thinking of ways to improve school safety in the event of an on campus attack." After much thought and deliberation, Michael developed the Safeskoolz Notifier.
"Imagine first responders knowing exactly where they need to go and what to do during a school emergency", said the nearly 15 year veteran of a Bay Area School District in California. "Safeskoolz eliminates the guessing and allows for more informed decisions to be made using software/hardware based communication and safety measures."
Understanding the importance of a well-balanced and rational approach to school safety, Michael began to further investigate the lockdown procedures most schools use today. What he found was that there wasn't an efficient way for staff to communicate the condition of their rooms to first responders. Some schools were using color coded cards and others weren't communicating anything at all, but simply turning their lights off, running to lock the door and staying out of sight. The time spent carrying out those procedures created an even greater risk.
As a result of these discoveries, Michael interviewed emergency responders, educators and students about their level of confidence with the procedures currently being used in their local schools. The feedback Michael received was not very positive. Most people he spoke to were concerned that there was a disconnect in communication between the classroom and law enforcement. Additionally, teachers and students did not feel safe with simply locking their doors and staying out of sight.
The Safeskoolz Notifier System is a fast, secure and cost effective way to help keep students safe. During a lockdown emergency, everything is about response time. With Safeskoolz, lockdown procedures that would normally take hours can potentially be shaved down to minutes.
So how does it work? Michael explained that the Safeskoolz Notifier System is unique in that it works with emergency first responders and school administration to assess the condition of each classroom through audio/visual communication. In the event of a school attack, a teacher can simultaneously notify law enforcement of an intruder, activate ip cameras, engage emergency door locks, and communicate the condition of their classroom via the Safeskoolz Conditions Alert; a color coded L.E.D. lighting system located above or to the side of each classroom door. With the Safeskoolz key-fob control; worn on a standard key lanyard, all of this can be done by the push of a single button.
Safeskoolz vision is to work with parents, local government, schools, and law enforcement to provide a safer environment for our children. With this in mind, they have started an Indiegogo Campaign in order to raise capital to install their system in Bay Area schools as a pilot program.
"At Safeskoolz, helping to keep students safe is our passion", said Michael. "We understand the importance of a well-balanced, rational and cost effective approach to school safety. We know that no school district is the same and that the needs and strategies of each district are unique. With our Safeskoolz Notifier, a multi-tiered, real-time, emergency response system, we want to offer options that make sense".
For more information on how to partner with Safeskoolz, visit their Indiegogo Campaign.