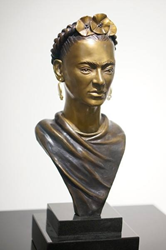 "I've been called the best kept secret in Hollywood, but we're about to change that."
Los Angeles, CA (PRWEB) October 22, 2014
The Museum of African American Art (http://www.maaala.org) will present a special evening amid the collective works of artist Nijel Binns as part of his ongoing exhibit, "Persistence of Vision." Nijel's works depict the use of important historical figures of the 20th century in striking imagery that alludes to the courage, passion, and persistence of a vision that binds them together in the fight for a greater cause.
Renowned for his sculpted portraits and his 16-foot-tall, two-ton bronze "Mother of Humanity" ® monument, Nijel's skill as a portrait sculptor was officially acknowledged in 1990 with a request to sculpt Michael Jackson when then pop icon was honored by CBS and Epic Records for being the "Top Selling Artist of the Decade." Nijel was also commissioned by Motown Records to create the gold-plated "Maasai Princess" bronze sculpture for singer Stevie Wonder. In 2002 Nijel produced the life-sized "Shirley Temple Monument" that graces the Shirley Temple Child Development Center on the 20th Century Fox Studio Lot. As one of the most gifted artists of our time, Nijel's works are in the hands of celebrities Oprah Winfrey, Stan Lee, the late Celia Cruz, and many others.
The evening will feature a special unveiling of a NEW bronze sculpture. One attendee will receive the gift of a signed print by Nijel that will be available for purchase. Doors open at 4:30 pm. Event begins at 5:30 p.m. Cocktail attire.