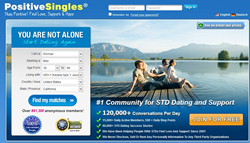 Los Angeles, CA (PRWEB) October 22, 2014
PositiveSingles.com has an extensive database of people who suffer from HIV and other sexually transmitted diseases. The company has done an analysis of its data, comparing the number of HIV patients in different regions of the United States. They have published statistics that show that across the US, the South has far more people living with HIV than the North or Middle.
According to the statistics from PositiveSingles.com, 41.69% of Americans who are living with HIV are from the North. 52.39% are from the South, and less than 6% are from the Middle. The study of HIV singles included 16 states in the South, and found that they had an average of 3,000 people with HIV. This compares to the 27 states in the North, which had an average of just 2,200 people with HIV. The Middle was the smallest region, and had just 950 average people with HIV across 7 states.
These statistics corroborate the findings of a recent article published in the Washington Post on Sep 22, "Southern states are now epicenter of HIV/AIDS in the US." The article in the Post pointed out that the typical HIV patient is no longer a white gay man. Today, people of color are affected disproportionately, with high rates of HIV among the black and Latino populations, especially in the south.
PositiveSingles.com also reported statistics on the overall number of people living with STDs of all types. They found that the southern states had an average of 17,000 people with STDs. The northern states had an average of 14,000, and the middle states had an average of 7,500.
The South included West Virginia, Florida, Georgia, Maryland, North Carolina, South Carolina, Virginia, Delaware, Alabama, Kentucky, Mississippi, Tennessee, Arkansas, Louisiana, Oklahoma, and Texas. The North included Arizona, Alaska, California, Colorado, Connecticut, Hawaii, Idaho, Illinois, Indiana, Iowa, Kansas, Maine, Massachusetts, Michigan, Minnesota, Missouri, Nebraska, New Hampshire, New Jersey, New York, North Dakota, Ohio, Pennsylvania, Rhode Island, South Dakota, Vermont, and Wisconsin. The Middle included Montana, Nevada, Oregon, Utah, Washington, Wyoming, and New Mexico.
PositiveSingles
PositiveSingles.com is the largest online STD dating site that caters specifically to people with HIV and other STDs. The site has helped people with HIV dating for more than 13 years. Members can create a free anonymous profile, and then use the site to make new friends and find STD dating opportunities. Members appreciate the warm, supportive community that the site provides.