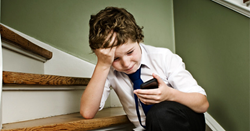 Watching porn opens doors for promiscuity, addiction and unhealthy life choices for impressionable teens and children everywhere.
London, UK (PRWEB) October 22, 2014
Ironically, Pornography is one of the highest grossing industries worldwide. For an industry to be so highly grossing, it means it has numerous consumers who just can't get enough. But where do children factor in when it comes to the Porn Industry? Are Children getting more access to porn then ever? NoBullying investigates in an article released today.
Pornography can have a significant impact on a child's life and their future after viewing porn. Children who view porn are more likely to mimic what they see on the screen and are also more likely to partake in sex at a younger age, which increases their chances of having unprotected sex and an unwanted pregnancy.
With social media also being a factor in children's and teens' lives, there is an influx of porn related material making its way through social networks every day. Parents are now hearing of things such as "Instagram Porn" and "Twitter Porn" where children can have access to links and photos via these social networks that take them to full blown porn websites. While these accounts are reported and blocked by administrators every day, it seems it is a never ending struggle for parents and caregivers looking to teach their children how to stop watching porn.
Another side of children and the porn industry dilemma is the use of children in the pornography industry, Child Pornography, a pedophile's heaven, is spreading like quick fire and laws and regulations and arrests in relation to child pornography are effective to a certain point but don't seem to enough to eradicate the exploitation of children in the sex industry.
Parents should explain to children that the internet is like a large city or even country. Just as there are some areas of town that are unsafe, there are also unsafe websites. Young children who get online should be taught to only go to websites that have been approved by a parent. Older teenagers and children should be given guidelines regarding what types of sites are and are not permissible.
Ciaran Connolly, Co Founder of NoBullying, notes that the issues of child pornography and teens and children watching porn are issues that need more research and communication and even possibly stricter intervention on the parents' side for more effective porn eradication. There is no one article or one resource that could parents at ease when it comes to their children's safety online and talking things out with children and keeping a close eye for signs of them watching porn is essential.
Connolly says "Children and teens are getting access to porn whether they want to or not. Watching porn opens doors for promiscuity, addiction and unhealthy life choices for impressionable teens and children everywhere. The porn industry needs to stay away from children; parental guidance is of the utmost importance."
He added that parents and teachers should make a point to educate the younger generations about the sad outcome of bullying online and offline. According to Connolly, it is quite imperative to press for more firm laws condemning all acts of bullying and harassment.
NoBullying.com features many pages dedicated to parents, teens, teachers, health professionals as well as posts related to cyber safety and the latest news about law making concerning curbing Bullying worldwide as well as inspirational Bullying Poems and famous Bullying Quotes.
The website regularly updates its bullying statistics and cyber bullying statistics as it is essential to understand how widespread the bullying epidemic is. It also regularly runs cyber bullying surveys and questionnaires to get recent updated statistics on everything related to cyberbullying.
He also added that anyone suffering from bullying in any form or way can always find advice and help on the NoBullying website – but if anyone is suffering from severe bullying or cyber bullying, the best thing is to talk to someone locally – a parent, teacher or local organization that has been set up to help with specialized councilors to deal with this topic.