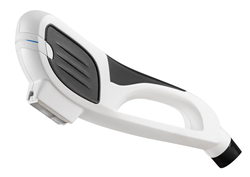 Jersey City, NJ (PRWEB) October 21, 2014
Viora, a leading medical aesthetics solution provider is launching the innovative V-IPL Hand Piece in Chile at the International Course of Aesthetic Surgery, Booth 7. The exhibition takes place October 23-25, 2014 at the Aula Magna German Clinic of Santiago, Av. Manquehue Norte 1410, Vitacura. Viora's Chilean distributor, Vaser Chile Ltd., will also be at the exhibition.
IPL treats the most popular aesthetic treatments include hair removal, skin rejuvenation, pigmentation, vascular lesions and acne clearance. Viora's advanced IPL technology ensures that with just one hand piece, and five interchangeable filters, every skin type and condition can be treated. This is due to Viora's proprietary PulseConfiguRhythm™ (PCR) technology which allows varied pulse structures designed for safe, personalized treatments, for the highest efficacy possible. With two spot sizes for face and body, Viora's IPL delivers ease of operation for practitioners.
The V-IPL hand piece is suitable for Viora's multi-technology platforms V20 and V30.
Conference Workshop
Dr. Cruzy Tagger, Medical Advisor at Viora, will present a lecture on October 23 at 13:00, entitled "Using different technologies in Plastic Surgery and Aesthetic Medicine". The lecture will highlight the advanced options available for dermatologists and other aesthetic practitioners.
About Viora
Viora is a market-leading aesthetic solutions provider for skincare applications for patients seeking the most advanced developments for the most requested treatments: rejuvenation, resurfacing, body & facial contouring, skin tightening, cellulite reduction, acne control, lightening, hydration, hair removal, exfoliation and more. Viora's expertise in developing solutions and technology for these applications ensures greater physician and client satisfaction. Viora's extensive knowledge and experience is forged from its expansive and deep connections to the aesthetic community and has allowed Viora to create the most sought after solutions, and achieve the most effective results. For more information, visit http://www.vioramed.com.