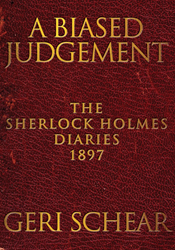 There is much promise here and I don't think we've heard the last from Geri Schear or indeed, possibly, some of the new characters she has introduced to the Baker Street stage. - Oscar Ross
(PRWEB UK) 24 October 2014
All novels begin when the author asks themselves a "What if?" question. In the case of A Biased Judgement published this week, for Geri Schear that question was what if Sherlock Holmes had really lived? What role would a man of his talents have played in the events of a turbulent and transformative late 19th century? Schear's novel tries to answer a host of other questions about Holmes. How did the events at the Reichenbach Falls and his subsequent disappearance impact Holmes? What effect did they have upon his relationship with Watson? How did Holmes adjust to the improvements in the police force and to being viewed by policemen as an 'elder statesman'? What was the impact of an increasingly modernised world upon his process?
In order to address these questions, Schear decided telling the tale belonged to Holmes himself, and she decided to use the format of a diary. She planned to weave the narrative around the canon and she chose to set the story in 1897 because it allowed her to incorporate one of her favourite Conan Doyle tales, The Adventure of the Devil's Foot.
Born in Dublin to an Irish mother and an English father, Schear spent much of her childhood in London and has lived almost every place that has a stop on the Northern Line from Euston to High Barnet. Schear has been a huge Holmes enthusiast since the age of seven when her grandmother gave her a copy of The Hound of the Baskervilles. She read it in less than an hour and then read it again immediately afterwards. She has read the entire canon too many times to count and also loves many of the pastiches.
There has never been a better time to be a Sherlock Holmes fan. With BBC Sherlock, CBS Elementary and the Guy Ritchie movies there are millions of new fans and the demand for new stories is at an all-time high.
Schear's first job was in Dublin's Olympia Theatre. For several years she also worked for the Dublin Theatre Festival. She has been a jeweller, a teacher, a hospital administrator, and a nurse but her first love has always been writing. Her short stories have appeared in a number of literary journals in the US and Ireland.
Schear lives in Kells, Co Meath. A Biased Judgement is her debut novel and she is currently writing a sequel tentatively titled, Sherlock Holmes and the Other Woman. One of the first Holmes society reviews comes from Oscar Ross. "There is much promise here and I don't think we've heard the last from Geri Schear or indeed, possibly, some of the new characters she has introduced to the Baker Street stage." Oscar Ross, Mayday Mayday (The Crew of the S.S. May Day, Northern Ireland's Sherlock Holmes Society).
A Biased Judgement is available from all good bookstores including Amazon UK and Amazon USA.
About MX Publishing
MX Publishing is the award winning world's largest Sherlock Holmes publishers. They are based in London, England, but their seventy plus authors are spread around the world. Most of their one hundred and fifty books are fiction, but they also have many biographical works on Conan Doyle. In 2013 MX made a big splash on the international stage with the performance biography 'Benedict Cumberbatch In Transition' which has sold in its tens of thousands in English, Japanese and Chinese. http://www.mxpublishing.com