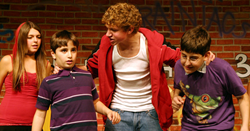 Not only are teens and children getting bullied online and offline, they are resorting to drugs and alcohol to numb out their pain.
London, UK (PRWEB) October 23, 2014
It is fact that a large number of teenagers regularly experience bullying in schools. As a result these kids often have trouble following classroom rules. They also are less engaged in their studies. Much of this distraction comes from the emotional turmoil they are experiencing from being a bullying victim and in comes teen drug abuse. NoBullying releases an article today on the link between bullying and teen drug abuse.
Victims of bullying suffer from anxiety, depression and social isolation. They may struggle with substance abuse, alcohol abuse, eating disorders and post-traumatic stress disorder. They may even contemplate suicide. As a result of being bullied, they may be at a greater risk for emotional problems including psychosis, substance abuse and personality disorders. Alcohol and party pills are the substances most often chosen by high school students followed by cigarettes and marijuana and prescription drugs.
There have been well-known cases of death of people who took the chemical drug Benzo fury to relieve themselves from the pain of bullying and depression. Teens resort to legal highs because of the stimulants in them that act like speed and ecstasy. From club drugs to LSD, Over the counter drugs and even huffing paint and the like, teens are looking for ways to numb the pain of not fitting in their social circles. Being on these drugs leads to more issues such as addiction, promiscuity and even criminal behavior, it is a spiral that never seems to end.
It is essential for parents in this case to talk to their teens about their feelings and what they are doing outside the house. Having long ongoing conversations on what happens when someone is getting high is more than important than ever. Parents need to be aware of the common signs of bullying and drug abuse in their teen's behavior.
Ciaran Connolly, Co Founder of NoBullying, notes that the issues of bullying and drug abuse are issues that need more research and communication and even possibly stricter intervention on the parents' side for healthier depression-free lives. There is no one article or one resource that could put parents at ease when it comes to their children's safety online and offline. It is more than essential for parents to start talking things out with children and keeping a close eye for signs of drug abuse and depression.
Connolly says, "Not only are teens and children getting bullied online and offline, they are resorting to drugs and alcohol to numb out their pain. Parents and teachers need to be aware of how to talk to their children about letting out their feelings in the safety of their own family."
He added that parents and teachers should make a point to educate the younger generations about the sad outcome of bullying online and offline. According to Connolly, it is quite imperative to press for more firm laws condemning all acts of bullying and harassment.
NoBullying.com features many pages dedicated to parents, teens, teachers, health professionals as well as posts related to cyber safety and the latest news about law making concerning curbing bullying worldwide as well as inspirational Bullying Poems and famous Bullying Quotes.
The website regularly updates its bullying statistics and cyber bullying statistics as it is essential to understand how widespread the bullying epidemic is. It also regularly runs cyber bullying surveys and questionnaires to get recent updated statistics on everything related to cyberbullying.
He also added that anyone suffering from bullying in any form or way can always find advice and help on the NoBullying website – but if anyone is suffering from severe bullying or cyber bullying, the best thing is to talk to someone locally – a parent, teacher or local organization that has been set up to help with specialized councilors to deal with this topic.