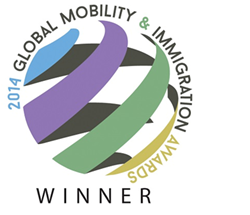 Our financial advisors undergo continuous training and deliver meticulous and proficient independent financial advice
Dubai, UAE (PRWEB UK) 23 October 2014
It seems that the financial award season is well and truly under way, and international financial advisor organisation AES International is off to a booming start! Within the last few weeks, AES International has been announced as the proud winners of not just one, but four finance awards.
Acquisition International, the voice of corporate finance, has awarded AES International the esteemed International Employee Benefits Team of the Year – UAE, and the Non-Domiciled Company Focused Financial Services Firm of the Year, in their 2014 Global Mobility & Immigration Awards.
These awards recognise AES International's corporate employee benefits offering. Specialist independent financial advisors are on hand to discuss corporate banking solutions, such as enabling day-to-day cash to be held offshore. This can be particularly beneficial when operating in a region with a relatively young banking system such as the UAE, and where local Sharia law prevails. Corporate offshore banking can benefit a company's bottom line in many ways, including reducing FOREX costs.
Factoring gratuity planning into an organisation's cash flow modelling is also top of AES International's agenda when speaking with corporate partners. In the UAE, it is a legal requirement for an employer to pay a 'gratuity' at the end of service (if the service us at least a year). This amounts to 21 day's wages for each year of the first 5 years, and 30 day's wages for each additional year (although the total of the gratuity need not exceed two years' wages). Net gratuity liability is increasing and all too often firms fail to factor this into their profit and loss sheet.
The next two honours were awarded by Wealth and Finance International, as part of their Wealth and Money Management awards, who pride themselves on recognising outstanding achievements worldwide. AES International is the winner of the prestigious Best Global Offshore Banking Team of 2014 award; and Best Private Wealth Management Adviser – UAE award.
CEO Sam Instone, is delighted with the recognition AES International is receiving globally and attributes the success to 'our financial advisors who undergo continuous training and deliver meticulous and proficient independent financial advice'.
A commitment to independent financial advice has seen AES International win over 20 financial awards in the last 5 years, including Best International Financial Planning Firm of 2013. AES International also won The Sunday Times Virgin Fast Track 100 Best Management Team award for 2012, as well as being the fastest growing financial services company for two years running.
Specialising in international financial advice for global expatriates, AES International is committed to securing the best possible outcomes for its private clients in the 36 jurisdictions in which it operates, through exporting UK best practice and pioneering positive change in financial services. The organisation has become synonymous with award-winning financial advice, winning in excess of 25 financial awards in the last 5 years and being names as one of the top 1000 Inspirational Companies by the Telegraph and the London Stock Exchange.
For more information, please contact Rebecca Steele on rebecca(dot)steele(at)aesinternational(dot)com