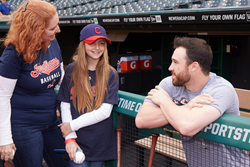 This was the event of a lifetime for Rhiannon
WINNETKA, Calif. (PRWEB) October 21, 2014
Even when 11-year-old Rhiannon Carter is dealing with extreme physical pain or four-hour medication infusions, she still manages to cheer on her favorite baseball team, the Cleveland Indians, especially second baseman Jason Kipnis. And thanks to children's charity Kids Wish Network, Rhiannon recently got the chance to meet her favorite player in person.
"This was the event of a lifetime for Rhiannon," recalls mother Katy Carter.
Kids Wish Network granted Rhiannon's wish to meet Kipnis as part of its mission to provide joy to kids facing difficult situations. Rhiannon suffers from a life-threatening medical condition that affects her on a daily basis.
When she was almost 2 years old, Rhiannon was diagnosed with juvenile rheumatoid arthritis which causes persistent joint pain, swelling and stiffness. Her doctors have attempted many different treatments throughout the years: pills, shots, joint injections, infusions and even chemotherapy. But Rhiannon continues to face excruciating pain on a daily basis.
The pain even gets so bad that she resorts to using a wheelchair for mobility. But the brave little girl doesn't let her illness get her down; three years ago she decided she wasn't going to cry during her frequent blood draws anymore.
"It isn't easy, because sometimes they have to poke me several times to find a good vein," Rhiannon says, "but I try to be strong."
And the only tears during her wish trip came from joy; Rhiannon's family was extremely happy to see her smile. Kids Wish Network sent Rhiannon and the Carter family on an all-inclusive wish trip where they stayed at luxury accommodations, dined at local restaurants, and sat VIP at the Cleveland Indians game.
The highlight of the trip for Rhiannon was spending time with her favorite player. Kipnis met with Rhiannon before batting practice, signed autographs and posed for memorable photos.
"Rhiannon is a really great kid," adds Kipnis. "I was honored that she wanted to meet me, and I thank Kids Wish Network for helping make that happen."
"Our entire family felt so fortunate to have such a wonderful opportunity," adds Katy. "I can't thank you all enough for everything; it really meant the world to Rhiannon."
Kids Wish Network would like to thank all the generous sponsors that helped make Rhiannon's dream come true: The Cleveland Indians, Jason Kipnis, Aloft Cleveland Downtown, Enterprise Rent-A-Car, The Corner Alley, Hard Rock Café, and Johnny Mango World Café.
Kids Wish Network is a national charitable organization dedicated to infusing hope, creating happy memories, and improving the quality of life for children having experienced life-altering situations. Come experience the Kids Wish Network difference at http://www.kidswishnetwork.org.