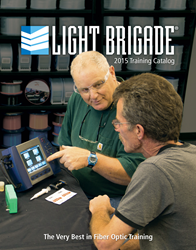 Each course's detail includes syllabus and certification options to help organizations plan for their training needs throughout the year.
Tukwila, WA and Spartanburg, SC (PRWEB) October 23, 2014
Light Brigade, AFL's training division, is releasing its 2015 Training Catalog, a 30-page brochure detailing Light Brigade's training courses, DVDs and fiber optic tool kits. The catalog features a complete schedule of training dates and locations throughout the United States and Canada for each of Light Brigade's 16 training courses, including;
Fiber Optics 1-2-3
Advanced Hands-on Training
Emergency Restoration
FTTx for Installers and Technicians
FTTx OSP Design
Certified Fiber to the Home Professional
CFHP Online Training Program
Fiber Optics for ITS, Traffic, Fire Alarm and Communication Systems (Levels 1, 2, 3)
Fiber Optics for Utilities (Levels 1, 2, 3)
Fiber Characterization
Fiber Optics for Oil & Gas
Fiber Optics for Mining
Fiber Optics for Pro A/V and Broadcast
Premises/LAN Installation and Maintenance
Light Brigade also develops custom courses specific to needs and applications.
Each course's detail includes syllabus and certification options to help organizations plan for their training needs throughout the year. Pricing and discount options for each course are also given and include a 10 percent discount for multiple attendees and a 15 percent discount for members of IMSA, UTC and the FTTH Council. Special GSA pricing also is available for certain courses.
Alumni of Light Brigade's three- and four-day classes are entitled to a variety of special benefits such as lifetime fiber optic technical support, exclusive discounts on fiber optic equipment and products, and a 25 percent savings on future training and Staff Development DVDs.
Download an electronic copy from the Light Brigade's website. To learn more about Light Brigade, visit http://www.lightbrigade.com. To learn more about AFL, visit http://www.AFLglobal.com.
About AFL
AFL provides industry-leading products and services to the electric utility, broadband, communications, enterprise and OEM markets as well as the emerging markets of oil and gas, mining, nuclear, avionics, renewables and transportation. The company's diverse product portfolio includes fiber optic cable, transmission and substation accessories, outside plant equipment, connectors, fusion splicers, test equipment and training. AFL's service portfolio includes market-leading positions with the foremost communications companies supporting inside plant central office, EF&I, outside plant, enterprise and wireless areas.
Founded in 1984, AFL is proud to offer engineering expertise, exceptional products and reliable service that help our customers improve their critical and electrical infrastructure. AFL has operations in the U.S., Mexico, Canada, Europe, Asia and the South Pacific. The company is headquartered in Spartanburg, SC and is a wholly owned subsidiary of Fujikura Ltd. of Japan.
About Light Brigade
More than 50,000 people around the world have attended Light Brigade's state-of-the-art fiber optic training courses, which cover the entire spectrum of fiber optics from basic theory, design, maintenance, and testing through to advanced topics such as FTTx, DWDM, PMD/CD, and fiber-optic video transmission. In addition, Light Brigade offers course development services in which courses can be customized to a specific skill level, subject matter, or to take place at a specific location. The company also produces professional-quality educational DVDs and online fiber optic courses. All of Light Brigade's training materials are technology based and demonstrate theory and techniques applicable to any manufacturer's product.