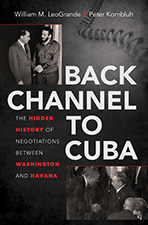 What's not well-known is that Cuba and the United States have been talking to one another and engaging diplomatically since 1959 from from the Eisenhower administration to the present. Every president has found some reason to negotiate with Cuba.
Washington, DC (PRWEB) October 21, 2014
Fifty-two years ago, the Cuban Missile Crisis fueled fears of nuclear Armageddon from across the Florida Straits. As the DEFCON level reached its highest alert, Washington and Moscow reached a diplomatic breakthrough removing the Soviet missiles. While Kennedy and Khrushchev negotiated, Washington also opened a secret back channel through Brazil to persuade Cuba to kick the Soviets and their missiles out. Over the ensuing years, U.S.-Cuban relations have been marked by lingering distrust, an embargo, and anything-but-normalized relations. Irreconcilable differences and Florida politics have kept the conflict alive, but 10 U.S. presidents, including John F. Kennedy, tried to return to some degree of normalcy with Castro. American University professor William LeoGrande and his co-author Peter Kornbluh look at the five decades of secret negotiations in their new book Back Channel to Cuba: The Hidden History of Negotiations Between Washington and Havana (University North Carolina Press, Oct. 2014).
Since 1959 Every U.S. President & Castro Have Engaged in Dialogue
Ten years of research, poring through hundreds of pages of previously classified U.S. and Cuban documents, hours of interviews with Fidel Castro, former President Jimmy Carter, and other surviving policymakers and negotiators led LeoGrande and Kornbluh to uncover the secret, back-channel contacts the two governments have had since 1959. U.S. officials and a dozen private citizens, including former president Jimmy Carter, have engaged with Cuban counterparts in half a dozen different countries and in settings from five-star hotels and restaurants to the cafeteria at La Guardia airport. During the Carter administration, Coca-Cola chairman J. Paul Austin carried secret messages to Fidel Castro and during the Reagan administration, Peggy Dulany, David Rockefeller's daughter, carried a message from Castro to Secretary of State George Shultz.
The record of regular contact and dialogue over half a century compelled LeoGrande and Korbluh to tell the little known story of engagement. Whether you call it cigar diplomacy (using cigars for diplomatic ice breaking), back channel negotiation, or rapprochement, the fact is every U.S. president has tried to engage with Cuba to advance the national interest.
"What's not well-known is that Cuba and the United States have been talking to one another and engaging diplomatically throughout that entire period. From President Dwight D. Eisenhower to the present, every president has found some reason to negotiate with Cuba."
"The most serious attempt to normalize relations took place during the Cold War under Gerald Ford and Jimmy Carter," write LeoGrande and Kornbluh. Not since Carter have comparable efforts been made. Presidents Clinton and Obama tried to improve relations, but did not aim for normalization.
Helms-Burton Game Changer
Under Clinton, the president's authority to unilaterally lift the embargo and normalize relations vanished when Clinton signed the Helms-Burton act into law, codifying the embargo. As a result, an act of Congress is necessary to fully lift the embargo. The prospects for better relations with Cuba became instantly more remote and subject to the twists and turns of domestic politics. As Brent Scowcroft national security advisor to Presidents Ford and George H.W. Bush told LeoGrande and Kornbluh, "Cuba is a domestic issue for the United States and not a foreign policy issue."
The U.S. Hawk & Dove Approach
Despite efforts to better relations, LeoGrande and Kornbluh also uncovered previously unknown U.S. contingency plans to bomb Cuba and mine its harbors, plans ordered by Secretary of State Henry Kissinger after Castro's military got involved in Angola in 1975. LeoGrande said, "Kissinger was so angry at Castro for sending troops to Angola at a moment when he was holding out an olive branch for normalization that he really wanted to, as he said, 'clobber the pipsqueak.' "
10 Lessons
LeoGrande and Kornbluh identify 10 lessons from the record of negotiations between Havana and Washington. Among them:

Cuba wants to be treated as an equal with respect for its national sovereignty;
Domestic politics plays a central role in prolonging the conflict;
Timing plays a crucial role;
Incremental approaches have failed to yield grander results; and,
Neither side really comprehends the other's bureaucracy so opportunities for misunderstanding abound.
Cuba to Attend Seventh Summit of the Americas in Panama Spring 2015. What Will the U.S. Do?
Presidents Raúl Castro and Barack Obama will most likely meet at the Seventh Summit of the Americas since the host country, Panama, has announced it will invite Cuba to participate for the first time. Would the U.S. actually boycott the hemispheric gathering and risk enormous damage to relations with its Western Hemisphere neighbors simply to avoid meeting with Castro? Unlikely, say LeoGrande and Kornbluh. Will Obama seize the opportunity to engage with Cuba as his presidency enters its final two years?
William LeoGrande and Peter Kornbluh are available to discuss the history of back channel negotiations with Cuba as well as the future for relations between Washington and Havana.