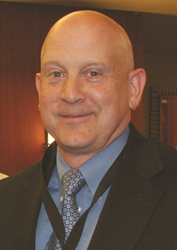 Held after ISC East, SIA Honors Night provides you with an opportunity to network and celebrate the security industry.
Silver Spring, Md. (PRWEB) October 21, 2014
On the evening of Wednesday, Nov. 19, the Security Industry Association (SIA) hosts SIA Honors Night: Celebrating Performance, Partnerships and People in the Security Industry in conjunction with ISC East, the premiere exposition in New York City for security professionals.
ISC East, produced by ISC Events and sponsored by SIA, is your opportunity to make connections during the day, while SIA Honors Night provides you with an opportunity to network and celebrate the security industry in the evening. Registration is open at http://www.securityindustry.org/honors.
At SIA Honors Night, Gordon Hope, General Manager for AlarmNet at Honeywell, will receive the George R. Lippert Memorial Award in an awards ceremony at The Lighthouse at Chelsea Piers, from 6:30-10:30 p.m., where attendees also will enjoy a sumptuous meal to celebrate the occasion.
Mr. Hope will receive the Lippert Award for his outstanding contributions to SIA and the security industry. Raymond Dean, President of Security Oversight Group (and recipient of last year's award), will present the award to Mr. Hope.
SIA also will introduce two new awards at SIA Honors Night.
First, SIA will honor two of its members for their contributions to increasing collaboration between SIA and vertical market organizations with the Jay Hauhn Excellence in Partnerships Award. Mike Howard, Chief Security Officer of Microsoft, has spent considerable time and energy over the past two years forging a collaborative relationship between SIA and the International Security Management Association (ISMA), one of the most prestigious end-user organizations in the world. Tom Cellucci, Founder, Chairman and CEO of Cellucci Associates, dedicated time to building a relationship between SIA and the County Executives of America as well as collaboration between SIA and the U.S Department of Homeland Security's Science and Technology Directorate.
SIA also will present the SIA Insightful Practitioner Award, which is presented to a security practitioner who demonstrates leadership and excellence in promoting the implementation of innovative security solutions through education, advocacy and teamwork, to Evelyn Meserve, former executive director of the International Association for Healthcare Security & Safety (IAHSS).
Comedian Paul Mecurio will serve as Master of Ceremonies for SIA Honors Night. Mr. Mecurio is an Emmy and Peabody Award-winner for his work on The Daily Show with Jon Stewart. He has appeared in his own Comedy Central Special, starred in his own series on HBO, appeared on dozens of television programs.
SIA Members can attend this high-profile event for $225; nonmembers for $299. Inquire about booking a table of eight at a discount rate of $1,650 for members; $1,999 for nonmembers. Buy your ticket today! Registration is open at http://www.securityindustry.org/honors.
A portion of the proceeds of SIA Honors Night benefits the Mission 500 nonprofit organization, which is organizing the security industry to sponsor 1,000 children in need, providing access to life-changing basics like food, clean water, healthcare and education.
For questions or to increase your profile at this event, contact Alain Taylor at 301-804-4711 or ataylor(at)securityindustry(dot)org.
Press interested in covering the event contact Mickey McCarter, SIA Communications Manager, at 301-804-4704 or mmccarter(at)securityindustry(dot)org.
About the Security Industry Association
The Security Industry Association (SIA) (http://www.securityindustry.org) is the leading trade association for electronic and physical security solution providers, with more than 500 innovative member companies representing more than 300,000 security leaders and experts who shape the future of the security industry. SIA protects and advances its members' interests by advocating pro-industry policies and legislation at the federal and state levels; creating open industry standards that enable integration; advancing industry professionalism through education and training; opening global market opportunities; and collaboration with other like-minded organizations. As a proud sponsor of ISC Events expos and conferences, and owner of the Securing New Ground® conference, SIA ensures its members have access to top-level buyers and influencers, as well as unparalleled learning and network opportunities.