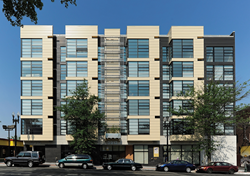 "I am thrilled that the hard work and dedication of our on-site teams has been recognized again this year", said Tony Ross, Executive Vice President of Equity Management.
(PRWEB) December 02, 2014
Equity Management communities took home several 2014 PACE awards this year including Best Affordable Community in Washington, DC, Maryland and Virginia. 3Tree Flats was named best Affordable Community in Washington, DC. Ellicott Gardens, Paddington Square, and Tanglewood Apartments won their categories in Maryland and Potomac Woods Senior Apartments was named Best Affordable Senior Community in Virginia.
In addition, 7610 Maple was honored with a Community Service Award. Earlier this year, 32Thirty-Two Apartments was awarded Best Large Tax Credit Property by HAND (Housing Association of Nonprofit Developers).
The judging criteria was based on exterior curb appeal, reception area, leasing center front/desk lobby, best practices, building interior/common areas, model, vacant or occupied apartments and maintenance shops.
The Property Management Association's Apartment Community Excellence Awards recognizes excellence in multifamily residential management. The 2014 PACE Awards were presented at a banquet on October 14th, 2014 at the Grand Hyatt in Washington, D.C.
Equity Management would like to thank and congratulate the 2014 PACE Best Affordable Communities for their commitment to outstanding resident services, professionalism, management practices, and exceptional customer service.
Equity Management is a leading property management firm, specializing in affordable housing in the mid-Atlantic area with over 9,000 units under management in seven states. Equity Management has experienced rapid growth and has a wide range of management services to help investors meet their needs.