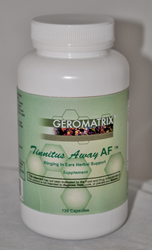 Boca Raton, FL (PRWEB) October 28, 2014
Geromatrix Nutraceutical Corporation (http://www.geromatrix.com), the nation's leading provider of cardiovascular and neurological nutraceuticals, is pleased to announce the launching of its revolutionary new tinnitus management formula called Tinnitus Away AF™.
According to the company's president, Robert Magedoff, "our new tinnitus formula is the first formula ever released that utilizes the new research which finds that both the cochlea and the brain are co-responsible for the tinnitus." As a tinnitus sufferer himself, Mr. Magedoff states, "While tinnitus originates with some form of hearing loss, the real problem is actually rooted deep in the brain and caused, researchers believe, by a complex interplay of brain signals gone wrong."
According to Josef Rauschecker, a professor of neuroscience at the Georgetown University Medical Center, who has been researching tinnitus for nearly a decade, "the problem begins with damage to tiny vibrating receptors called hair cells in the snail-shaped cochlea of the inner ear. That injury results in two things: hearing loss — gaps in certain frequency ranges of hearing — but also a remapping in the auditory cortex of the brain, where signals received from the inner ear are processed. The brain then tries to fill in the gaps, and it does so by creating phantom sounds. On MRI scans of tinnitus sufferers, scientists see evidence of this as hyperactivity: an excess firing of neurons in the brain's auditory cortex."
Of the 75 million Americans who experience tinnitus at some point in their lives and the 26 million who are bothered enough to seek help, 5 million have it to a degree so severe that it's debilitating, according to the American Tinnitus Association. Based on disability claims from the Veterans Administration, tinnitus is now the leading disability among veterans, outranking higher than post-traumatic stress disorder.
With 60% of American adults looking for alternative natural solutions, Tinnitus Away AF™ is the first formula that get to the root cause of the tinnitus problem by bringing the proper ingredients to the body so that it can get back in balance resulting in the sufferer finally experiencing relief.