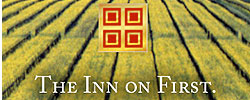 Napa, CA (PRWEB) October 21, 2014
Jim Gunther, chef at The Inn on First, was recently invited to be a part of Napa's Downtown Association Chef Series. As part of this series, he demonstrates how to make the Corn Dog Omelet, a savory rolled omelet with spinach, prosciutto and cheese dipped in corn dog batter, deep fried and served with mustard.
"This is one of the most popular breakfasts we make for guests," said Chef Gunther.
With over 130 breakfast recipes to choose from, Gunther always strives to bring a new breakfast experience every time guests visit.
"We keep track of when you come and what you enjoyed for breakfast," said Gunther. "On your next visit, we make sure to have something new and different."
Chef Gunther's cuisine includes recipes for all dietary needs, including gluten intolerance, dairy-free, nut-free, vegetarian, vegan, etc. If the assigned breakfast is not something the guest wants, he is always willing to scramble up some eggs.
Gunther, along with Jamie Cherry, became the innkeepers of The Inn on First in 2007. Since then, they have created a unique bed-and-breakfast experience for guests unlike any other in the Napa Valley. With their San Francisco style and focus on hospitality, The Inn on First is a memorable place to stay.
Visit The Inn on First's website to see Gunther's video and learn how to make the Corn Dog Omelet.
About the company:
The Inn on First provides romantic getaways in the Napa Valley that will surpass all expectations. They can offer landscapes of rolling hills and beautiful vineyards of the entire Napa Valley. With a location that is one of the most sought after destinations in the country, the Inn and rooms are the perfect complement to a Napa Valley experience and make for a romantic atmosphere for loved ones. The Inn on First is always committed to providing their guests with an experience unlike any other, providing them with the utmost care and service. For more information, please visit their website at http://theinnonfirst.com/.