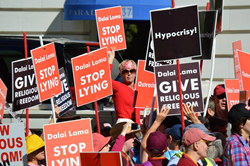 "What's sad and ironic, and what most people don't realize, is that the Dalai Lama is guilty of some of the exact same human rights violations that the Civil Rights leaders fought against." - Len Foley, ISC spokesperson
Birmingham, Al (PRWEB) October 22, 2014
Tibetans, Americans, and international protesters will demonstrate outside each of the Dalai Lama's Birmingham events holding placards and chanting loudly "Give religious freedom!" and "Stop lying!".
"The city of Birmingham has invited the Dalai Lama in good faith for the 50 Years Forward celebration," said Len Foley of the International Shugden Community (ISC), the group organizing the demonstrations. "What's sad and ironic, and what most people don't realize, is that the Dalai Lama is guilty of some of the exact same human rights violations that the Civil Rights leaders fought against."
The protesters claim the Dalai Lama publicly banned a 400-year-old mainstream religious tradition of making prayers to the Buddhist Deity Dorje Shugden. They state he is responsible for an aggressive persecution campaign affecting millions of people worldwide and resulting in suffering and human rights abuses, including segregation practices. For example, signs refusing entry and services to people of Shugden faith have gone up in shop windows, restaurants and medical facilities in Tibetan exile communities (1).
_________________________________
Demonstration schedule:
Saturday, October 25
UAB Alys Robinson Stephens Performing Arts Center, 8:30am - 11:00am
Kelly Ingram Park, 1:00pm - 4:00pm
Sunday, October 26
Alabama Theatre, 8:00am - 11:00am
Regions Field, 1:00pm - 4:00pm
_________________________________
Earlier this year hundreds of Shugden practitioners staged peaceful and lawful demonstrations in California, Washington, DC, and Europe. Instead of engaging in dialogue, the Dalai Lama's government (CTA) responded to the protesters by passing a cabinet resolution criminalizing their Shugden faith (2). The CTA then published the names of 34 of the Tibetan protesters, together with their photographs and personal information. Some of these Tibetans are U.S. residents (3).
"The Tibetan government in exile's highly public release of these protesters' photographs and personal information shows a blatant and inexcusable disregard for the safety and welfare of these people," said spokesperson Len Foley.
"The Dalai Lama needs to bring an end to the suffering caused by his sectarianism and religious intolerance," added Foley. "We do not ask that he likes or practices our religion but that religious freedom should apply equally to all people."
Foley stated the ISC will continue to protest the Dalai Lama at all his events in the United States until he publicly agrees to allow equal rights and religious freedom for all Shugden people throughout the world and encourages his followers to do the same.
The ISC is an umbrella organization comprised of Dorje Shugden practitioners from multiple Buddhist traditions. There are over 4 million people within Tibet, Mongolia, India, the United States and across the world who practice Dorje Shudgen prayers.
Footnotes:
1. Al Jazeera Reports, April 13, 2009, http://www.youtube.com/watch?v=Rqa2DeOIEQM
2. Resolution 3, http://tibet.net/2014/03/20/tibetan-parliament-passes-resolution-concerning-dolgyal/
3. Central Tibet Administration, "List of Dolgyal [Dorje Shugden] protestors," http://tibet.net/dolgyal-shugden/list-of-dolgyal-protestors/
Previous press coverage includes:
World Net Daily Oct '14, 2014
http://www.wnd.com/2014/10/dalai-lama-accused-of-religious-persecution/
Reuters
http://uk.reuters.com/article/2014/02/22/uk-usa-dalailama-protests-idUKBREA1L17M20140222