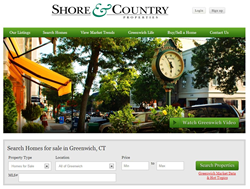 Riverside, CT (PRWEB) October 21, 2014
Shore & Country Properties has just released the numbers for the third quarter, which show that the dollar volume for the Greenwich single-family home sales rose 14 percent during this time in 2013 to $1,353,399,799. This is in spite of the fact that unit sales dropped 4 percent. While the average sale price pushed its way up almost 20 percent to $2,515,613, the median price only rose 11 percent to $1,800,000.
The median sale price is an interesting number because $1.8 million is right around where entry-level buyers need to be if they are seeking a home in move-in condition, around 3,500-4,000 square feet and located in a sought-after school district or location. Even at this price point, there still may be compromises, i.e. one-car garage, smaller lot size, one less bedroom or bath, but most of the boxes on the buyer's wish list can still be checked.
Even more interesting, the number of sales between $400,000 and $3 million all trended down, as much as 42 percent to the $400,000 to $600,000 category, mainly due to lack of inventory. This is sad news to those looking for the affordable first-time home that is a fixer-upper. Last year, 40 homes had closed in this price range. This year, only 23 units traded. Another popular price point, the $1.5 million to $2 million range, dropped from 97 sales to 80 or 18 percent. This has nothing to do with a lack of buyers who can afford homes in this range and everything to do with the lack of inventory. There should be an increase by the end of the year as there are currently 11 homes under contract and waiting to close and 67 properties still available. Those trying to sell their homes in this price point should act now as it is the perfect time to discuss an adjustment with the realtor.
So what is driving this uptick in pricing and where has there been the biggest jump in transactions? Check out the high end, beginning with a 160 percent increase in sales over $10 million. This market more than doubled with 13 homes trading at this level versus a mere five last year through September. Another busy price point? Note a 67 percent increase in homes sold priced between $5 million and $7.5 million. And the $3 -$4 million price point isn't far behind, up 44 percent with 65 units sold.
Greenwich real estate is impacted more by Wall Street than Main Street, which keeps the market thriving. But the high end saw a shift for another reason: sellers finally came to grips with the new values of their property and made price reductions which in turn led to sales.
As for the fourth quarter, rumors of rising mortgage rates could motivate buyers to finally make that purchase before year end. So again, those who have been on the market and are not getting offers should review their price now.
For more a complete look at the numbers, plus the most comprehensive information on Greenwich real estate, please visit Shore & Country Properties' website: http://www.ShoreandCountryProperties.com
About the company:
Shore & Country Properties was originally started by Russell Pruner in 1989 as Russell Pruner and Associates. His vision for a company comprised of the town's best full-time real estate professionals. Nancy Healy joined the company as a partner in 1996. Since starting her career in real estate in 1987, Healy has been one of the town's busiest and well-respected realtors. Recently, her peers voted her one of America's Most Preferred Realtors. The year 2000 brought the addition of two more partners, Joan Epand and Ken Yorke. Each added yet more talent to the group, from Epand's marketing expertise to Yorke's sharp accounting skills and operational abilities.
Both Pruner and Healy have served multiple times as president of the Greenwich Association of Realtors and the Multiple Listing Service and given their time to work on other committees. As a result, they have a unique understanding of what it takes to run a successful real estate firm. And by carefully selecting only agents who represent the best of Greenwich, Russell Pruner and Associates quickly grew to become the leading independent real estate firm, serving all 50 square miles of Greenwich and lower Fairfield County.
"We handpick respected agents who demonstrate the integrity, expertise and personal touch that clients deserve when buying or selling their most valuable assets."
In 2003, Russell Pruner and Associates became Shore & Country Properties to let consumers know they service every neighborhood from the back country to the shore line. For the past 13 years, Shore & Country Properties has been the no. 1 real estate company in Greenwich by selling their listings in the fewest number of days and with the highest original list price to sales price. They continue to lead the Greenwich market in transactions and dollar volume while providing unparalleled service to their clients. For more information, visit their website at http://shoreandcountryproperties.com/.