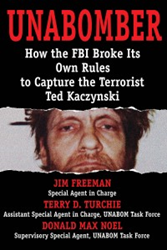 "The public deserved to know the truth behind the capture of Ted Kaczynski,' said Terry Turchie."
Palisades, NY (PRWEB) October 23, 2014
Jim Freeman and Terry Turchie, two of the three FBI Special Agents who led the team that captured the terrorist Ted Kaczynski, will be at Barnes and Noble Bookstore in Palm Desert, California on October 25, to speak to the public about the internal struggle in the Bureau to change procedures necessary to capture the Unabomber. The authors will also discuss how the changes inadvertently established the groundwork for dealing with terrorism in the United States today.
The two Agent authors, along with the third co-author Max Noel, have appeared at 20 Barnes and Noble bookstores in California and appeared on Book-TV and C-Span in Washington, D.C. during their presentation at the Newseum on September 20.
"UNABOMBER, How the FBI Broke Its Own Rules To Capture the Terrorist Ted Kaczynski" is the story told by the former FBI agents of the internal struggle they experienced to change the outmoded procedures of the FBI. Newly assigned to the case after 16 years of futile search for the Unabomber, the struggle resulted in more expedient techniques including the use of reaching out to the public through the media for its assistance. Through the newly refined techniques, Mr. Kaczynski was captured in just two years.
"The public deserved to know the truth behind the capture of Ted Kaczynski," said Terry Turchie. "The behind- the -scenes story of the pursuit and capture of the Unabomber has never been told before. This is the first time and it has been a long time coming."
The three agents and authors are Jim Freeman who was the Special Agent in Charge so designated by then FBI Director Louis Freeh, Terry Turchie who was the counter-intelligence specialist brought in by Jim Freeman to head the task force and Max Noel, the street agent who made the actual arrest. Their book was published on June 17, 2014 by History Publishing Company
The three authors will appear at Barnes and Noble in Palm Desert, California on Oct. 25 at 12 Noon.
Contact: Don Bracken, djb(at)historypublishingco(dot)com, 845-398-8161