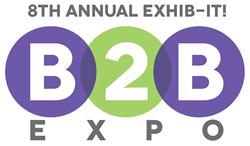 We use the power of our annual expo to thank those organizations that continually give back to our community
Albuquerque, New Mexico (PRWEB) October 21, 2014
Non-profits are invited to submit applications by Nov. 21
EXHIB-IT! has issued a call for applications for non-profits that would like to be considered for the beneficiary of funds donated during the 2015 Business-to-Business Expo. For application information, please go to our B2B Expo Nonprofit and Silent Auction Page.
This coming year, 2015, will mark the 8th B2B Expo. A non-profit organization will be chosen to receive the proceeds of the silent auction held at the New Mexico Expo, and will be highlighted in B2B Expo advance publicity and on the day of the Expo. Our Silent Auction has raised up to $10,000 in a single year and the non-profit selected will also receive our annual Exhibit Display Giveaway, which is an $1800 value donated by EXHIB-IT! awarded annually.
Prior silent auction recipients include: 2009-NM Christian Children's Home; 2010-Cystic Fibrosis Foundation; 2011-Joy Junction; 2012-Mothers Against Drunk Driving (MADD); 2013-UNITE for the Forgotten Children of New Mexico; 2014-Dream BIG.
Prior Exhibit Giveaway recipients include: 2009- Anderson School of Management Foundation at UNM; 2010- Samaritan Counseling Center; 2011- Children's Grief Center & YWCA-NM; 2012- People Living Through Cancer & Christina Kent Early Childhood Center; 2013- Albuquerque Heading Home; 2014-Dream BIG.
"We use the power of our annual expo to thank those organizations that continually give back to our community," said DJ Heckes, EXHIB-IT! CEO. "Albuquerque is blessed with many non-profits who do so much good for so many. The silent auction and the Exhibit Giveaway at our event provide outstanding opportunities to do business and to do good—helping two outstanding non-profits each year. Over the history of the expo, we have gathered more than $40,000 for our non-profit honorees."
For an interview of last year's silent auction recipient, Dream BIG, click here.
Applications are due by November 21, 2014 at 5:00PM. Winners will be announced the following Monday, just in time for Thanksgiving.
About EXHIB-IT!
EXHIB-IT! is a design and display company with over 23 years' experience in specializing in high quality trade show displays and trade show management services. Industry thought leader and EXHIB-IT! CEO, DJ Heckes has prioritized customer education as a core company value by publishing hundreds of helpful blog posts, online newsletters, white papers on tradeshow related topics and her first book Full BRAIN Marketing.