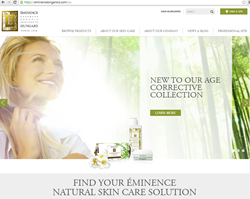 A large focus of this new website is to help visitors find our products and expertise as quickly and easily as possible
(PRWEB) October 27, 2014
Éminence Organic Skin Care, the leader in natural, organic, Biodynamic® and professional skin care, has launched a new look and feel to their website (http://www.eminenceorganics.com) that focuses on creating the ideal online user experience. The transformed new website is sleek, stylish and packed with new features.
Now available as a fully responsive mobile-friendly site, Éminence provides the option to visit their website anytime, anywhere and from any device. With options to browse their vast collection of natural, organic and Biodynamic® skin care products by category, skin concern or skin type, Éminence offers a unique experience for everyone. The new wish list feature allows visitors to create a custom list of their must-have Éminence products.
Unsure which products will offer the best results for specific skin concerns? Éminence has the answer at your fingertips with their new interactive Product Recommender Tool that suggests products most appropriate for a particular skin type or skin concern.
Éminence has taken their Spa Locator to a whole new level. The new high-tech, geo-location based Spa Locator makes it easier than ever to find Éminence products. With one click on the Spa Locator page, all authorized Éminence spas in the local area are displayed automatically.
"Our amazing new website and skin care 101 section provides site visitors with basic skin care education, but as a professional skin care line, we always recommend consulting an esthetician for a more in-depth skin analysis to achieve the best results," says Boldijarre Koronczay, President of Éminence Organic Skin Care. "A large focus of this new website is to help visitors find our products and expertise as quickly and easily as possible."
Not only are the features of the new Éminence website an exciting upgrade, but the content has also received a face-lift. With the feel of an online magazine, the News & Blog has evolved into a place of entertaining reading and casual learning about organic product, philosophy and lifestyle. From healthy recipes to celebrity skin care tips, the Éminence News & Blog section enhances the user experience by providing a venue for readers where they can interact, share and engage with the online community.
Visit http://www.eminenceorganics.com to experience all of these new and engaging features for yourself.
About Éminence Organic Skin Care
Éminence Organic Skin Care is the award-winning provider of the most effective professional skin care products in the natural and organic skin care industry. With more than half a century of herbal craftsmanship and innovation, and several centuries of unsurpassed skin rejuvenation techniques unique to Hungary, they offers the highest quality natural skin care to leading salons, spas and their clients in more than 40 countries around the world. Éminence's superior spa treatments and products rely on a unique combination of hand-picked fresh ingredients. Vitamins are captured in their all-natural fresh base, offering dramatic results as actual seeds, pulps and peels begin the regenerative and healing powers that only nature can produce. Voted "Favorite Skin Care Line" for six years in a row by spa professionals and seen as Hollywood's skin care secret, with devoted fans such as Madonna, Cameron Diaz, Hugh Jackman, Michael Fassbender, Jessica Biel, Katherine Heigl, and Jena Malone, Éminence is renowned for premium organic and Biodynamic® skin care that enhances your well-being naturally. A commitment to the environment is integral to its business practices and the company strives to create products that are good for the earth as well as good for the skin. By enlisting wind and solar power energy in the making of products, recyclable packaging with vegetable-based inks, geothermal heating in the laboratory and an eco-alternative design of the head office, Éminence does all that it can to combat climate change. Starting in the fall of 2012, the Forests for the Future initiative brought that commitment to the environment to a whole new level by planting a tree for every product sold. Visit http://www.eminenceorganics.com for more information.
For more information, images or sample requests, please contact Jennifer Kerstens at (888)747-6342 Ext. 2238 or email JKerstens(at)eminenceorganics(dot)com.