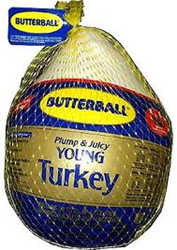 Certificates can be sent to a home, office, family or friend.
HARRISBURG, NC (PRWEB) October 23, 2014
Galvan Electrical's 13th Annual Butterball Turkey Promotion began October 1 and continues through December 13, 2014. For each U.S.A. electrical distributor serving the contractor or utility customer base that issues a purchase order to a single destination for immediate shipment of Galvan ground rods, acorns, clamps, connectors, lugs and other products in any combination valued at $2,400 or more, the company will mail out a gift certificate for a Butterball turkey. Details are available on line.
Orders worth $6,000 or more earn three certificates. Customers need only fax or e-mail their purchase order to their Galvan sales representative and mail a photocopy of the purchase order along with a pre-addressed, stamped envelope to:
Attn: Turkey Promotion
Galvan Industries, Inc.
P.O. Box 369
Harrisburg, NC 28075-0369.
Certificates can be sent to a home, office, family or friend – whatever address is shown on the envelope.
The company is also sending turkey certificates to distributor customers who submit a single destination purchase order for $600 or more for connectors only (lugs, split bolts, cable ties, transformer lug kits and tools) during the same period. Ground rod and ground rod clamp purchases don't apply to the "connectors only" promotion.
For larger connector-only orders, each $600 increment will earn another gift certificate. For example, a $1200 order would qualify for two certificates, an $1,800 order would qualify for three.
For more information on the Galvan Turkey promotion, call 1-800-277-5678; fax: 704-455-5215; email: sales(at)galvanelectrical(dot)com.
About Galvan
Galvan Industries, Inc. has been a trusted supplier to the electrical, electronic and utility industries for more than five decades. Galvan electrical products are used in residential, commercial and industrial applications, including construction, cable TV, lightning protection, power transmission and telecommunications. They are available from leading electrical wholesalers and distributors throughout the United States.