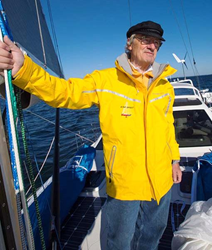 Alexandria, VA (PRWEB) October 22, 2014
Florida-based and New Zealand-born adventurer Stanley Paris, PT, PhD, plans to try again to become the oldest person to solo circumnavigate the globe nonstop by sailboat and by beating the current record of 137 days. Paris attempted to achieve the around-the-world goal last year, but was forced to stop because of equipment failures.
Dr Paris will use this trip, scheduled to launch in early November, to raise awareness for the Foundation for Physical Therapy (FPT) on whose board he serves. During his first attempt, Dr Paris raised more than $250,000 for the Foundation.
"I am looking forward to taking on this challenge once again and using this opportunity to raise awareness for the Foundation," stated Dr Paris. "As a physical therapist and educator, I believe physical therapy research is the key basis of effective treatments for those living with injuries and diseases, and gives patients a better result with fewer complications at a lower cost. But we need more research that demonstrates the value of physical therapy, and the Foundation is doing just that."
Widely known as a pioneer in the field of physical therapy, Dr Paris founded the University of St. Augustine for Health Sciences. Since his immigration to the United States from New Zealand in 1966, he has been actively involved in research, clinical practice, and teaching in the areas of orthopedic and manual physical therapy. He has published more than 40 articles in physical therapy, medical, and osteopathic journals and a book, The Spinal Lesion.
"Stanley continues to impress me with both his commitment to achieving his personal goals and his generosity toward the Foundation," said Foundation Board of Trustees President William G. Boissonnault, PT, DPT, DHSc. "His efforts are important in the Foundation's determination to support research that helps physical therapists improve the quality of life for a global population. And we remain grateful to him."
In 2014, Dr Paris attempted to break the speed and age record set by Dodge Morgan in 1986. Morgan circumnavigated from Bermuda and returned in 150 days at age 56. However, in the past year, a Chinese sailor sailed around the globe from China and lowered the speed record to 137 days. Additionally, the age record was broken when a 70-year-old British woman circumnavigated from Vancouver, Canada.
Dr Paris will seek to set new speed and age records as well as being the first to circumnavigate green. He will depart from St. Augustine, Florida, in early November.
About the Foundation for Physical Therapy
The Foundation for Physical Therapy was established in 1979 as a national, independent nonprofit organization dedicated to improving the quality and delivery of physical therapy care by providing support for scientifically based and clinically relevant physical therapy research and doctoral scholarships and fellowships.
To learn more, visit Foundation4pt.org.
Over the last 35 years, the Foundation has awarded more than $14 million in research grants, fellowships, and postprofessional doctoral scholarships to more than 550 emerging scientists. Foundation-funded researchers have gone on to receive an estimated $725 million in external funding from the National Institutes of Health and other sources. Many of today's leading and emerging physical therapist researchers, clinicians, and academicians began their careers with a grant or scholarship from the Foundation.
Contributions to the Foundation for Physical Therapy are tax-deductible and can be made online at Foundation4PT.org or sent to its headquarters at 1111 N Fairfax St, Alexandria, VA 22314. For more information, e-mail info(at)foundation4pt(dot)org or call 800/875-1378.