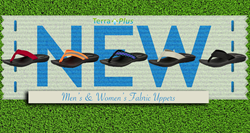 Key West, FL (PRWEB) October 23, 2014
The latest line of affordable, Fully-Grounded sandals from Get Grounded Footwear® are not only stylish and comfortable, but effectively enable individuals to directly connect to the Earth and obtain a gentle flow of energy in the form of free electrons.
Each Get Grounded footbed is contoured and made exclusively from 3rd Planet's proprietary TerraMater and TerraPlus Earthing Materials, providing a constant connection between the body and the Earth. When it comes to Grounding, it's all about that vital connection, with the amount of surface area/contact being the key. When re-establishing a connection to the Earth, more is always better. Get out, reconnect and Get Grounded!
For a limited time, customers who purchase a pair of Get Grounded Footwear's new ION or GroundalsPLUS will receive a free pair of their original Groundals® in the size/color of their choice by entering the coupon code FREEGR at checkout.
In its continued effort to share its knowledge of the ever-growing science of Earthing/Grounding with the world and promote a healthier lifestyle, getgroundedfootwear.com has also included free shipping on all orders within the continental United States.
To learn more about Get Grounded Footwear® and the benefits of Earthing, please visit http://www.getgroundedfootwear.com.