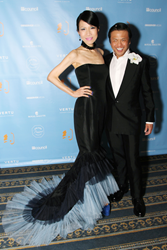 As we raise a toast to the third anniversary of YUE, we are privileged to honor the leaders in philanthropy and present their accomplishments as a meaningful way to understand that generosity is a time-honored tradition in the Chinese cultural makeup.
New York, New York (PRWEB) October 22, 2014
Chiu-Ti Jansen, Publisher of YUE Magazine, hosted the magazine's third anniversary celebration at the Harmonie Club in New York City on October 20. The black tie gala honored eight of the most powerful Chinese and Chinese American influencers in the world of philanthropy: David Henry Hwang, Yue-Sai Kan, Anla Cheng Kingdon, Michelle Kwan, Lang Lang, Richard Lui, Hao Jiang Tian and Shirley Young.
In addition to the honorees and their guests, the exclusive festivities brought together Chinese and New York elite for an evening of delectable delicacies, as well as Royal Salute Scotch whiskey and wines generously provided by Pernod Ricard. Also on hand was Royal Salute's brand ambassador, Peter Ly, who was a presenter during this year's celebration. Vertu, the presenting sponsor, presented at the event, through an array of mobile devices, unique sound and visual experiences showcasing some of the honorees' charitable achievements. The attending honorees each received a fine crystal Baccarat Louxor Obelisk made in Baccarat's signature design. Beijing Council, the associate sponsor, provided additional support for the event.
"YUE, derived from the Chinese rendition of New York, literally means rendezvous and promise. More than a lifestyle magazine, YUE is about building an exciting community around shared ideas and aspirations. What could be a better way to accomplish this objective than giving back to our communities?" Ms. Jansen remarked: "As we raise a toast to the third anniversary of YUE, we are privileged to honor the leaders in philanthropy and present their accomplishments as a meaningful way to understand that generosity is a time-honored tradition in the Chinese cultural makeup."
Chief Executive Officer of Vertu, Massimiliano Pogliani, said: "Vertu is delighted to be part of the celebrations for YUE Magazine's third anniversary; we feel privileged to be given the opportunity to participate in an event which honors some of the greatest Chinese leaders in philanthropy."
Notable guests at the gala, in addition to the honorees and senior executives of YUE luxury advertisers, included: Mr. and Mrs. Chen Guoqing (co-founder of the HNA Group and Hainan Airlines), Datuk Zang Toi (fashion designer), Chien Chung Pei (Principal of the Pei Partnership Architects and Chairman of the China Institute), Geoffrey Bradfield (Architecture Digest 100 interior designer), among others.
YUE MAGAZINE:
YUE Magazine is the first bilingual lifestyle magazine focusing on the unique luxury experiences in the US for affluent Chinese consumers. YUE publishes four issues a year and covers fashion, jewelry, watches, art, shopping, culture, fine dining, real estate and education, offering China's sophisticated readers a multi-faceted view and a better understanding of America's elite lifestyle.
YUE Magazine is a joint venture between Observer Media (publisher of The New York Observer), and CHINA HAPPENINGS, a multimedia platform focusing on the lifestyle industries in contemporary China.
CHINA HAPPENINGS
CHINA HAPPENINGS (http://www.chinahappenings.com) is a multimedia platform founded by Chiu-Ti Jansen that focuses on the lifestyle and cultural industries in contemporary China. Ms. Jansen is a TV presenter, a lifestyle magazine publisher and a writer based in New York City with a pulse on China. She hosts TV and video presentations on fashion and style for Phoenix TV, Phoenix Fashion and SINA Fashion, and writes a blog titled CHINESE ELEMENTS for international auction house Sotheby's and a fashion and style column titled NEW YORK IN STYLE for the Financial Times' Chinese edition. Prior to founding CHINA HAPPENINGS, Ms. Jansen was a New York-based corporate partner of an international law firm. A native speaker and writer of Mandarin Chinese, Ms. Jansen holds advanced degrees from Yale University and Columbia Law School and serves as an Honorary Ambassador of the Lang Lang International Music Foundation and a director of the Board of the Couture Council of Museum at the Fashion Institute of Technology (FIT). A regular on many best-dressed lists, Ms. Jansen is the subject of a recent Daily Fashion Report's dedicated profile: http://blogger.lookonline.com/2014/06/the-social-graces-chiu-ti-jansen.html.
Observer Media
Observer Media is a collection of premium lifestyle and business titles reaching audiences in the areas of innovation, commerce and luxury. Recognized for original content and premier experiences, Observer Media's digital, print, social media and event platforms reach 5 million of the nation's most affluent and educated individuals. Notable properties include: New York Observer, Betabeat and Commercial Observer.
Vertu
Vertu aims to deliver the world's best luxury mobile phone experience for its customers by combining expert craftsmanship and peerless materials with innovative technology and unique services. Today, Vertu leads the market that it pioneered over a decade ago. The Vertu range of mobile phones is made up of three distinct models – Vertu Signature Touch, Signature and Constellation. Vertu mobile phones are handmade in England using the world's finest materials, with each one assembled by a single craftsman. Vertu is renowned for its curated services; a suite of carefully selected exclusive offers, content and assistance especially selected to enhance the Vertu customer's lifestyle. Vertu LIFE offers personalized recommendations and privileged access to experiences and events. Vertu CERTAINTY delivers security for customers, their data and their phones. Vertu is available around 500 stores, including 70 Vertu boutiques, in 66 countries. For more information please visit http://www.vertu.com.
Beijing Council
Beijing Council International Auction Company Ltd., established in October of 2005, is a comprehensive auction company headquartered in Beijing. With a focus on the classical Chinese painting, fine Chinese modern art, Chinese antiques and Chinese modern oil painting and sculptures, Beijing Council also participates in real estates auctions and other charity auctions.
Royal Salute
As one of the most coveted and admired luxury spirit brands in the world, Royal Salute is valued and celebrated by those who aspire for the absolute best. The brand continues to recognize and pay homage to leaders and achievers of greatness within the Asian community and is honored to be a sponsor of this year's festivities with YUE, celebrating the third anniversary and recognizing those who are true philanthropists. Royal Salute is also extending its coveted international Mark of Respect Award to the U.S. later this year, honoring a top Asian-American individual in the field of arts and culture. The recipient will be named by the brand at the 2014 Unforgettable Awards Gala.
CONTACTS: Observer Media / YUE Magazine
Mia Wang, editor(at)yuemagazine(dot)com