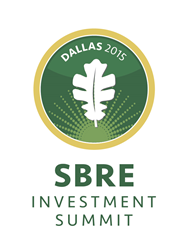 The positive feedback we've received has been overwhelming. Many investors said that after the sessions they felt empowered and were excited to go out and implement their new knowledge.
Portland, OR (PRWEB) October 22, 2014
Fairway America, LLC ("Fairway"), a Portland, Oregon based small balance real estate fund advisory and investment firm, recently held the first ever Small Balance Real Estate (SBRE) Investment Summit in Seattle, Washington, bringing together accredited investors with fund managers from around the country to help learn the ins and outs of small balance real estate funds from both a manager and investor perspective.
The Summit was held October 16–18, 2014, at the Bell Harbor International Conference Center in downtown Seattle. The Summit was designed to bring greater awareness to this exciting market segment, build a greater understanding between the accredited investors and fund managers, and facilitate more interaction and opportunities between the two groups.
"The positive feedback we've received has been overwhelming. Many of the fund managers have told us that this is the best conference they've ever attended for multiple reasons, but especially because we were able to get 'real' investors to actually show up and talk with the managers," said Matt Burk, Fairway America's CEO. "On the other side, we received similar feedback from the investors. Several of them told me how fascinated they were to learn about a space that they really knew nothing about and appreciative that someone is finally spotlighting this niche. In fact, many investors said that after the sessions that they felt empowered and were excited to go out and implement their new knowledge now that they have a better feel for SBRE funds are all about."
Fairway is a fund advisory, consulting, administration, and investment firm that leverages its expertise and experience to help bridge the gap between accredited investors and fund managers in the small balance real estate space. Fairway uses education, online platforms, events like the SBRE Investment Summit, and its proprietary Fairway America Fund VII to help facilitate better and more accurate decisions by accredited investors in the small business real estate space.
"In this industry, there's been nearly 75 years of prohibition where fund managers couldn't talk openly about these investment opportunities," continued Burk. "It was prohibited by law. Now that the law allows a manager operating a 506 Regulation D fund to let the world know it exists, we want to bring greater awareness, knowledge and understanding to the high net worth accredited investor who is the ideal audience for these opportunities. The nature of these funds make them a poor match for Wall Street due to their highly fragmented nature and the fact that they can't choke down the amount of capital Wall Street wants to deploy. This puts high net worth individuals in a unique position to take advantage of these excellent investment opportunities where they can make a passive investment that often generates double digit returns and where the downside is protected by real estate."
In addition to advising and training investors and fund managers, Fairway also manages Fairway America Fund VII, an SBRE fund whose investment strategy it to invest in other well-conceived and well-run funds around the United States. At the Summit, Fairway received verbal commitments from a number of investors who attended to invest into Fund VII. Most of the other managers also received strong interest from multiple investors with the average "investor interest" count of about 15 investors per presenting fund. "We will be tracking the results of these interactions to get a sense of how much capital the individual funds end up raising as a result of their presenting at the Summit," said Burk. "Based on the uniformly favorable feedback from the attendees on both sides of the aisle, we expect there to be a lot of business that gets done and a tremendous demand for the next event. We can't wait to do it again."
Fairway will host the second annual SBRE Investment Summit on October 15-17, 2015 in Dallas, Texas. For more information about next year's Summit of for more information about Fairway America visit http://www.fairwayamerica.com/.
About Fairway America
Fairway America, LLC is a long-time real estate lender, fund manager and boutique real estate finance advisory firm providing strategic business planning services nationwide to private money lenders and real estate operators around the structure, architecture, and administration of proprietary 506 Regulation D pooled investment funds. Fairway's related entities manage two funds, Fairway America Fund VI, LLC, an acquirer of small balance real estate secured loans and investments, and Fairway America Fund VII, LP, a small balance real estate fund of funds. Both funds consider investments nationwide. For more information visit http://www.fairwayamerica.com/.