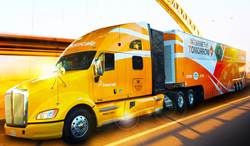 Dallas, Texas (PRWEB) October 22, 2014
Servergy, a technology solutions integration company focused on data security, has announced that it has partnered with Freescale Semiconductor, and as such is participating in Freescale's newly launched Internet of Tomorrow Tour.
The tour, which is Freescale's mobile showcase of Internet of Things (IoT) products and demonstrations, debuted on October 1 at ARM TechCon 2014. It consists of a high-end truck trailer that has been retrofitted to display more than 120 IoT products and technology demonstrations. The tour allows visitors to interact with technology, products, sensors, chips, and software that is driving the IoT.
Servergy (http://www.servergy.com) is a natural fit for the tour, given its ability to secure appliances, data storage, and the network. "We are honored to be one of several industry leading technology companies that are participating with Freescale in this initiative," said Lance Smith, Severgy's recently named President & CEO.
"The Freescale Internet of Tomorrow Tour presents a tremendous opportunity to highlight Servergy's unique technologies and how we will have an important role in making the Internet of Tomorrow a reality," added Amit Kaistha, Servergy's VP of Operations & Technology Solutions.
Among those technologies that will be featured on the vehicle are a broad array of cutting edge IoT products, solutions, and reference designs, including telepresence robots, data aggregators, advanced driver systems, wearables, next-generation networking gear, and myoelectric gesture recognition technology.
The timing of the tour is perfect, according to Smith. He noted that the global research firm Gartner predicts the IoT will include 26 billion units by 2020 and generate incremental revenue exceeding $300 billion for product and service suppliers. These growth projections will be fueled by both disruptive innovations that transform established industries, as well as through the creation of entirely new markets.
For more information on the tour, partners, and demos, visit http://www.freescale.com/iot/tour.
About Servergy
Founded in 2009, Servergy is a technology solutions integration company focused on data security. Servergy is able to secure appliances, data storage, and the network while simplifying data security management by offering cloud-based and standalone unified threat management solutions. Servergy's extensive expertise in the engineering of high-security software and hardware platforms ranges from embedded edge systems to scale-out server solutions for the data center. Servergy's patented hardware and software technologies are the driving force behind the new CTS-1000, built around the Freescale QorIQ chipsets. Potential implementations are network data security, software-defined networking, network function virtualization, distributed storage, cloud computing, caching, streaming, and big data for IoT and M2M applications. For more information, visit http://www.servergy.com.