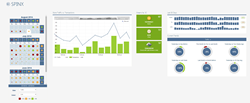 VIGIL Trends is the only way to obtain a truly dynamic and actionable picture of the activity and overall health of your business today. Matthew Kushner, CEO, 3xLOGIC
Westminster, Colorado (PRWEB) October 21, 2014
3xLOGIC, Inc., a leading provider of integrated intelligent security solutions, today announced the release of VIGIL Trends, a new productivity tool that provides key stakeholders the critical data needed to make real-time, informed decisions.
VIGIL Trends provides a clean, simple visual snapshot of any organization's operations. Leveraging unique icons, graphs, and intuitive color-grouped images, Trends organizes vast amounts of disparate data so it can be interpreted more effectively and efficiently than ever before. Trends' reports are completely customizable, presenting information in the format and method most effective for each user.
"The critical element that's been missing from traditional Business Intelligence offerings is the ability to understand the impact human interaction has on an outcome," said Matthew Kushner, 3xLOGIC's CEO. "VIGIL Trends is all about aggregating disparate data, and integrating it with human behavioral data. We can then extract the most relevant information and deliver it to users in a highly-consumable visual format. This approach, while easy to describe, has been a technological obstacle no other BI provider has been able to overcome until now. VIGIL Trends is the only way to obtain a truly dynamic and actionable picture of the activity and overall health of your business today."
The increase in viable data being made available through sensors, cameras, time/attendance systems, access control devices, ATMs, EAS, LPR, POS and other analytic tools has been harnessed to provide unprecedented visibility into any organization. With VIGIL Trends, 3xLOGIC has created a way to distill all of this disparate data into relevant, actionable information that can be efficiently and effectively acted upon--saving time and money and reducing loss and ineffective operations.
"The real value VIGIL Trends offers is its innate ability to quickly identify data outliers that impact an organization," emphasized Charlie Erickson, 3xLOGIC's EVP Product Development. "We compile and present information in such a way that users can compare data, be it store-to-store, day-to-day, or employee-specific. Then, we provide the tools that enable users to drill down to the level of granularity they want; all with an intuitive, easy to use interface that empowers users to act upon the new information now available to them."
VIGIL Trends will be available for purchase beginning October 27th.
About 3xLOGIC Communications
A leader in the Security industry for more than 15 years, 3xLOGIC is known for providing complete, easy-to-use surveillance solutions that seamlessly integrate audio, video, and disparate data such as Access Control, License Plate Recognition (LPR), ATM, Point-of-Sale (POS), etc. 3xLOGIC's video surveillance solutions are engineered for scalability and are remarkably simple to install, use and service. Employing the latest advances in NVR, VMS, IP camera, analytic and Cloud technologies, 3xLOGIC delivers high-value business intelligence anywhere, anytime and from any device.
In 2014 3xLOGIC experienced rapid growth as the market shifted to a single-solution-provider model, the Cloud being an integral part of that paradigm. 3xLOGIC is harnessing the power of this technology, creating a viable product, ready for deployment today that takes the prospect of security to the next level. With the acquisition of Sonitrol's R&D resources from Stanley Security, 3xLOGIC is uniquely poised to revolutionize the system solutions business. The combination of audio and video alarm verification will virtually eliminate the false alarm epidemic so problematic in today's intrusion systems, all while being accessible from any device, anywhere internet access is available. For more information about 3xLOGIC, please visit our website http://www.3xLOGIC.com.
For Media Queries:
Bruce J. Doneff
Public Relations
843.476.3022
Doneff(at)verizon(dot)net
For 3xLOGIC:
Wendi Burke
Senior Director of Marketing
720.945.7966
wendi.burke(at)3xlogic(dot)com
###