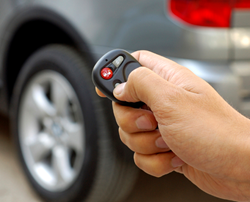 LINCOLN, R.I. (PRWEB) October 22, 2014
October is National Crime Prevention Month, and Amica Insurance is sharing tips to help prevent thieves from breaking into your vehicle.
According to the National Highway Traffic Safety Administration (NHTSA), a motor vehicle is stolen every 44 seconds in the U.S. However, between 40 and 50 percent of vehicle theft is the result of driver error.
The NHTSA is offering the following vehicle theft prevention tips:

Park in well-lit areas, and if it's an attended parking lot, leave only the ignition/door key with the attendant.
Lock the vehicle, and always take the keys with you. Never hide a second set of keys in the vehicle.
Completely close windows when parking, and keep valuables out of plain sight.
Park with the wheels turned toward the curb, so that it is difficult to tow the vehicle away. If the vehicle has rear-wheel drive, backing it into the driveway will also make it more difficult to tow.
Install an antitheft device or system in the vehicle.
Leave business cards, address labels and other identification inside the vehicle, which will help law enforcement in the event it's stolen.
About Amica Insurance
Amica Mutual Insurance Co., the nation's oldest mutual insurer of automobiles, was founded in 1907. The company, based in Lincoln, Rhode Island, is a national writer of auto, home, marine and umbrella insurance. Life coverage is available through Amica Life Insurance Company, a wholly owned subsidiary. Amica employs more than 3,300 people in 43 offices across the country. For more information, visit Amica.com.
CONTACT: Vince Burks, Corporate Communications, 50 Amica Way, Lincoln, RI 02865-1155, 800-652-6422, ext. 24563
Twitter: Amica
Facebook: Amica Mutual Insurance Co.