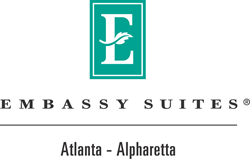 Our toy drop off stations will provide the hotel staff, guests, and surrounding neighbors a great opportunity to contribute to a charity that makes a tangible difference in the community
Alpharetta, GA (PRWEB) October 24, 2014
Showcasing its commitment to the Alpharetta community, the Embassy Suites Hotel- Alpharetta announced today that for the six year, it is an official collection site for this holiday season's Toys for Tots drive to collect toys to distribute to children in need.
The Embassy Suites Hotel -Alpharetta is participating along with 10 other hotels owned or operated by Windsor Capital Group (WCG Hotels). In the 6th year of partnering with Toys for Tots, Embassy Suites Alpharetta is proud to serve as a drop locate for Toys for Tots.
"We are very excited to partner with Toys for Tots for the six year in a row, I am excited about the enthusiasm that the team has and we look forward to serving our community and encouraging locals to come out and donate," stated Cheryl Catrair, General Manager at Embassy Suites Alpharetta. "Our toy drop off stations will provide the hotel staff, guests, and surrounding neighbors a great opportunity to contribute to a charity that makes a tangible difference in the community during a time of year where financial hardship is felt most by children."
Toys for Tots, a non-profit public charity founded in 1947 by the United States Marine Corps Reserve, is dedicated to delivering new toys to less fortunate children in the community during the holiday season. Toys for Tots views these presents as more than just toys, they are messages of hope delivering joy to the nation's most precious resource of all—our children. For generations, Toys for Tots has united members of communities nationwide for the common cause helping their children and bettering their neighborhoods. Embassy Suites Alpharetta is proud to partake in such a tradition and invites all guests and community members to join with them.
The Embassy Suites - Alpharetta will be collecting toys until December 10th. The hotel encourages everyone who is able to come in and donate an unwrapped, new toy. The hotel is located at 5955 North Point Parkway Alpharetta GA.
This world-class hotel is conveniently located in the heart of the community's corporate, entertainment, shopping, and restaurant districts. We offer two room suites and a wonderful complimentary cooked to order breakfast prepared in plain view. Our nightly Manager's Reception includes complimentary cocktails, beer, and wine along with tasty snacks. We are within walking distance of many excellent restaurants and also provide complimentary shuttle service to Topgolf, Main Event, Avalon, and the North Point Shopping Mall located approximately one mile away.
Additionally, for those guests who wish to relax and not leave the hotel, they can enjoy cocktails at ''The Bar'' and then dine next to our beautiful atrium waterfall in ''The Cascades'' restaurant. There is also an array of shopping, dining and entertainment options throughout Alpharetta, such as the Verizon Wireless Amphitheatre, the American Girl® store and North Point Mall.
Call today and book your get away at the Embassy Suites Hotel – Alpharetta.
About Embassy Suites Alpharetta, discover the essence of suburban sophistication at Embassy Suites - Alpharetta. A world-class hotel for corporate and leisure travelers, we provide exclusive amenities and handsomely appointed guest rooms. For guests planning events, we offer flexible, state-of-the-art function space with warm southern hospitality, exceptional catering and professional planners to ensure an unforgettable experience. Cherish an upscale community sanctuary at one of the finest hotels in Alpharetta for business or leisure, Embassy Suites- Alpharetta.
For more information, to make a reservation or to submit a request for proposal, call 678-762-8701 or visit http://www.embassysuitesalpharetta.com
Hotel Contact:
Ronald K. Frierson
Director of Sales/Marketing
Embassy Suites Hotel - Alpharetta
P: 678-762-8701
ron.frierson@hilton.com
###