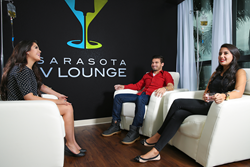 Our treatments deliver quick, dramatic results that are not achieved through traditional medicine.
Sarasota, FL (PRWEB) October 23, 2014
The Sarasota IV Lounge has opened its doors in downtown Sarasota, FL, as the first wellness bar of its kind in the area. Located within the DaSilva Institute of Anti-Aging, Regenerative & Functional Medicine, the Sarasota IV lounge offers intravenous vitamin drips and shots that prevent and treat disease, illness, dehydration and hangovers, as well as chronic conditions such as stress, pain, migraines and fatigue.
"IV nutrition has been used by professional athletes and celebrities for years to quickly reverse common ailments, boost energy and improve performance," said Founder Dr. Guy DaSilva, M.D., "but it doesn't have to be a luxury. Our lounge brings these cutting-edge treatments to the masses."
Dr. DaSilva, who is a globally-recognized IV nutrition expert and lecturer, personally designed every drip to target specific conditions throughout the body. Treatments contain a blend of vitamins, antioxidants, minerals and hydration, delivered intravenously to nourish, protect and repair cells from the inside out.
"Our bodies are only able to absorb about 50% of the nutrients and hydration we take through food, supplements and water," said Dr. DaSilva, "but because our IVs deliver them directly into the bloodstream, you experience 100% absorption at high doses that could never be tolerated orally."
Popular IV treatments include the "Pick Me Up," which naturally boosts energy levels for several days, and "The Athlete," which is sought out by pro and amateur athletes looking to rehydrate cells, boost energy and promote muscle repair. Other offerings include IVs that boost the immune system, detoxify cells and repair skin damage, as well as vitamin shots that deliver a week's worth of nutrients in about 10 minutes.
While some may cringe at the thought of needles, the Sarasota IV Lounge boasts a safe and pain-free experience in a relaxing, lounge-like atmosphere. "Our treatments are painless aside from the initial slight prick of the needle, and there are no side-effects," said Dr. DaSilva. "Guests can sit back and relax while replenishing their body with pure, preservative-free vitamins and nutrients."
The Sarasota IV Lounge offers treatments Monday through Friday in its medically-supervised lounge, and also takes reservations for weekend appointments and private group drips.
"Whether you're looking to instantly reverse a hangover, prevent illness during flu season or naturally support conditions like cancer, fibromyalgia or Alzheimer's, our treatments deliver quick, dramatic results that are not achieved through traditional medicine," said Dr. DaSilva.