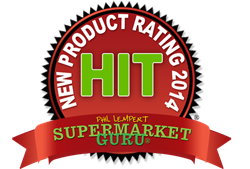 We are so grateful to be recognized again for our work by Phil Lempert, who is a pillar within our industry and the consumer community.
San Diego, CA (PRWEB) October 24, 2014
This week, Earth Source Organics' (ESO) Righteously Raw Chocolate Macaroon got the stamp of approval from Phil Lempert – and not for the first time. The Supermarket Guru bestowed this honor upon Righteously Raw chocolates last year as well, praising the Divine Mint for its high marks in taste, health value, ingredients, preparation, appearance, packaging and sustainability. This year, the Macaroon's low-number resume of 100 calories per individual serving, with only 8 grams of fat and 3 grams of sugar, along with its decadent mix of dark chocolate and coconut, earn Righteously Raw the "Hit of the Week" seal (http://www.supermarketguru.com/reviews/new-product-hits-and-misses-for-october-15th,-2014.html#10705).
Phil Lempert has been advising the public on "Smarter Shopping, Healthier Eating, and Better Living" for over two decades, empowering both brands and their consumers to make educated marketing and purchasing decisions in their everyday lives. A seasoned food and consumer trend analyst, Phil Lempert offers constantly updated tips, insights, and guidance through SupermarketGuru.com, one of the leading food and health resources on the Internet.
"We consciously create each product with the love of human hands and social responsibility, focusing on communicating our mantra of healthy, happy living through every single piece of chocolate," says ESO president Audrey Darrow. "We are so grateful to be recognized again for our work by Phil Lempert, who is a pillar within our industry and the consumer community."
Earth Source Organics began offering individually wrapped Righteously Raw Coconut Macaroons earlier this year, and have seen them fly off the shelves. "Our Macaroon has met with considerable success," explains Director of Operations Brittany England. "It is definitely one of our customer's favorites and we're so glad that the Supermarket Guru has chosen to highlight and share this with his audience." For more information on the Supermarket Guru, please visit his website at http://www.supermarketguru.com.
More About Righteously Raw Chocolates:
Righteously Raw is the gourmet chocolate brand of the certified organic food manufacturing company Earth Source Organics. Based in Southern California, this company is on a mission to provide organic and delicious foods to its customers to help them lead happy, healthy lives. Earth Source Organics is also the proud distributor of Vigilant Eats Gluten-Free Cereal. For more information and to find Righteously Raw Chocolates near you, please visit http://www.righteouslyrawchocolate.com.
To learn more about Earth Source Organics' Righteously Raw Macaroon, please contact Audrey Darrow at (760 ) 734-1867 or info(at)earthsourceorganics(dot)com