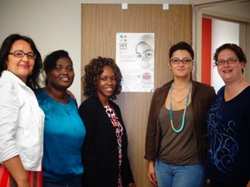 We are fortunate to have such a highly skilled trainer helping to promote this great program in Alberta
Edmonton, Alberta (PRWEB) October 21, 2014
The Safe Harbour Respect for All program is a diversity awareness program developed by AMSSA. It aims to break down the barriers that divide communities and support newcomer integration. The program has over 1000 participating organizations across Canada and all certified locations take steps to make diversity and inclusion part of their community building work. If you are interested in learning more about the program, contact 1-888-355-5560. Or support us at our annual fundraising event this November 6th.
Tymmarah Zehr, the recent Program Manager for the Welcoming and Inclusive Communities and Come Together Alberta initiatives, works tirelessly to promote human rights. In 2013, she joined forces with Lindsay Marsh, National Program Coordinator of the Safe Harbour Program, to help facilitate AMSSA's program to participating organizations in Alberta. Tymmarah was awarded a Paul Harris Fellowship by the Rotary Club of Edmonton Strathcona in June of 2013. She has coordinated a provincial conference for 200 people and over 20 speakers to address issues related to Aboriginal relations, bullying, the LGBTQ communities, and best practices for newcomer integration and ability-related issues.
Tymmarah believes her work in creating effective, peaceful change in a world of uncertainty begins at home. She endeavours to make a positive impact in the lives of other people through educational gatherings which educate, inspire and empower others to create their own effective change. As a cultural diversity and inclusion consultant Tymmarah provides workshops and presentations on intercultural communication increasing intercultural sensitivity, reducing discrimination, promoting inclusion of all people, and encouraging people to be mindful.
When the Safe Harbour: Respect for All program received funding to expand the program to Alberta, Manitoba and Newfoundland, Tymmarah Zehr took part in the training session offered in Grande Prairie, Alberta. At the time she was a volunteer on the City's Welcoming and Inclusive Communities Committee and felt the Safe Harbour: Respect for All program was the perfect fit for a community that had recently signed onto UNESCO's Canadian Coalition for Municipalities Against Racism and Discrimination. "We are fortunate to have such a highly skilled trainer helping to promote this great program in Alberta." says Jeff Madigan, Safe Harbour Program Coordinator at AMSSA. "The workshop is a very valuable service and Tymmarah is the kind of facilitator that leaves people wanting more".
The next Safe Harbour workshops will be in Vermilion on October 28th at 1pm and again at 6pm. You can contact Vermilion River Adult Learning at 780-853-2000 to register your seat. In Wainwright, Safe Harbour Respect for All workshops will be held at 9am and 1:30pm. Contact Carley Herbert at 780-842-3381. These workshops are free to attend and provide the framework to start building diversity awareness in your organizations and communities.