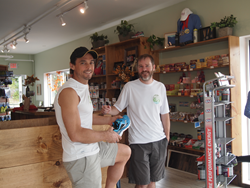 I love the idea of building something from the ground up.
Croton-on-Hudson, N.Y. (PRWEB) October 23, 2014
Ben Drew is an avid runner. He's completed nine marathons and countless half marathons, 10ks and 5ks. Now, he's turning his passion into profitability by starting his own specialty running store.
Run On Hudson Valley sells running and walking shoes, clothing and other gear for runners, in addition to hosting group runs, classes, events and training programs. The shop serves as a resource for runners and walkers before, during and after their workouts. "Our larger goal is to help runners and walkers of all skill levels achieve their goals throughout their running career," Drew explained.
Prior to opening his store, he worked at a bank for 10 years. When a move created a long and unpleasant commute, Drew took it as a sign to start thinking of ways he could be proactive in charting his own career.
"I've always wanted to own a small business," he said. "I love the idea of building something from the ground up, and I'm always seeking new challenges."
Drew discovered Guidant Financial when researching methods to fund a start-up. Utilizing the firm's 401(k) rollover arrangement, he invested money from his retirement account into his new business without taking a taxable distribution. Drew described Guidant's process as "easy and straightforward."
Now, the new entrepreneur is reveling in his ability to call the shots and control his own future, calling the experience "liberating."
"The best thing [about being a business owner] is being able to decide which direction to steer my business," he stated. "I have the power to choose what to work on and when. Coming from a corporate environment, tasks were often thrust on me regardless of the greater benefit to the department I worked in. Now I decide what to do."
Run On Hudson Valley, located at 383 S. Riverside Ave., Croton-on-Hudson, celebrated its grand opening last weekend with a film screening, raffles, giveaways and refreshments. To learn more about the products and services Run On offers, call 914-271-2134, email ben(at)runonhudsonvalley(dot)com or visit runonhudsonvalley.com.
###
About Run On Hudson Valley
Running is hard. That's why Run On Hudson Valley strives to make the running journey as easy as possible. Whether it's finding the best pair of running shoes, offering classes to train and recover more efficiently, or simply offering a hug for hard work, Run On provides everything a runner needs for success. From beginners to seasoned veterans, the experienced staff prides themselves in helping you have the best running experience possible. To learn more, call 914-271-2134, email ben(at)runonhudsonvalley(dot)com or visit runonhudsonvalley.com.
About Guidant Financial
Guidant Financial helps people create the life they want through innovative small business financing. They are the premier provider of rollovers for business start-ups (ROBS). Guidant's services allow people from all walks of life the freedom to purchase small businesses and franchises using their retirement funds without taking a taxable distribution or getting a loan, in addition to offering traditional funding options such as SBA loans, portfolio loans and unsecured credit. Visit Guidant on the Web at guidantfinancial.com.