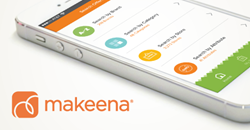 This is our first time offering coupons, and we are thrilled to be able to do so through such an innovative channel.
San Diego, CA (PRWEB) October 29, 2014
Through a new partnership with mobile application company Makeena, Earth Source Organics (ESO) now gives customers the opportunity to get money back from their Righteously Raw Chocolate purchases. This new app is a pioneer in the health and natural foods industry that allows consumers to earn money when they purchase healthy and sustainable products at any retailer. ESO's organic raw chocolate line, Righteously Raw, is one of the first brands to connect with Makeena and make product offers available to customers.
Sustainable, all-natural products that don't include processed, chemical-laden ingredients can often come with a hefty price tag. With Makeena, app users can now get cash back for their health food purchases. Once the app is installed on a customer's phone, all they must do is snap a picture of their grocery receipt to validate the coupons that apply to their purchase. Then they can redeem their cash back by having it deposited directly into their bank account, or by a credit on their credit card. By using this application, consumers can find savings and discounts that allow them to buy high quality, natural products and groceries without breaking the bank.
"We are extremely excited about the November launch of Makeena," says ESO president Audrey Darrow. "This is our first time offering coupons, and we are thrilled to be able to do so through such an innovative channel. This way, we can directly show our appreciation for our customers, as well as continue to spread our message of love and healing even further!"
Makeena also offers a social sharing feature, allowing app users to not only save money when they purchase their favorite brands, but to share offers with friends and family so that they can save money too. For more information on this new mobile application, please visit their website at http://www.makeena.com.
More About Righteously Raw Chocolates:
Righteously Raw is the gourmet chocolate brand of the certified organic food manufacturing company Earth Source Organics. Based in Southern California, this company is on a mission to provide organic and delicious foods to its customers to help them lead happy, healthy lives. For more information and to find Righteously Raw Chocolates near you, please visit http://www.righteouslyrawchocolate.com.
To learn more about Earth Source Organics' work with Makeena, please contact Audrey Darrow at (760) 734-1867 or info(at)earthsourceorganics(dot)com.