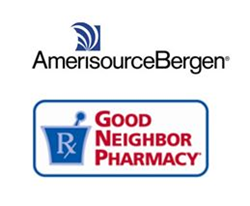 Austin, TX (PRWEB) October 22, 2014
Good Neighbor Pharmacy - a national independent pharmacy network - concluded its participation at the National Community Pharmacists Association (NCPA) Annual Convention & Trade Exposition today. Good Neighbor Pharmacy is a proud sponsor and supporter of NCPA's annual convention and tradeshow, which takes place each fall. The conference closed today following five days of exhibits, networking sessions and workshops designed to provide independent pharmacists with resources and tools to grow their businesses. Along with representatives from AmerisourceBergen, Good Neighbor Pharmacy leaders sought to share the knowledge, reach and partnership that come from a relationship with AmerisourceBergen by leading conversations on topics that are critical to pharmacy today, including:

Star Ratings Roundtable – A critical component of Good Neighbor Pharmacy's effort to help community pharmacies transform patient care, this educational session provided pharmacists with instructions, tools and advice for how to view CMS Star Measures as a business opportunity and enhance patient outcomes.
All About Your Business – Breakfast for Success – Scott Robinson, Vice President, Good Neighbor Pharmacy, and Jennifer Zilka, Director, Business Coaching, led a session titled, "TransPHARMing Pharmacy – Beyond a Fresh Coat of Paint" which provided attendees with tips for transforming pharmacies as well as key practices for revitalizing business offerings and customer service.
Two events focused on Long-Term Care businesses: Technology for Your Long-Term Care Business Today and Tomorrow and Breakfast with Champions – All About Your LTC Business
"Good Neighbor Pharmacy has a long-standing commitment to the future of independent community pharmacy and at the NCPA Annual Convention & Trade Exposition, we are able to provide pharmacists and pharmacy students with opportunities to learn, grow and adapt to the changing healthcare landscape," said Scott Robinson, Vice President, Good Neighbor Pharmacy. "We are proud to support the convention and business plan competition each year, and we look forward to working with the NCPA for many years to come."
A major component of the sponsorship is the Good Neighbor Pharmacy Pruitt-Schutte Business Plan Competition. The NCPA and NCPA Foundation established the competition in 2004 to recognize leading pharmacy students across the country. The competition, named after renowned independent pharmacists, Neil Pruitt, Sr. and H. Joseph Schutte, helps to prepare pharmacy entrepreneurs for a successful future. During the competition, students are challenged to create a business model for buying an existing community pharmacy or for developing a new pharmacy.
During the general session on October 19th, the trophy was awarded to University of Oklahoma College of Pharmacy-Tulsa, represented by Lindsey Crane of Kansas City, MO; Lindsay Bebout of Broken Arrow, OK, and Latosha Zugelder of Claremore, OK. The business plan was to create a pediatric-focused pharmacy that provided comprehensive pharmacy services tailored for children. This year's other finalists included University of Arkansas Medical Sciences College of Pharmacy and University of San Francisco School of Pharmacy.
For more information about Good Neighbor Pharmacy, visit http://www.amerisourcebergen.com.
About AmerisourceBergen
AmerisourceBergen is one of the largest global pharmaceutical sourcing and distribution services companies, helping both healthcare providers and pharmaceutical and biotech manufacturers improve patient access to products and enhance patient care. With services ranging from drug distribution and niche premium logistics to reimbursement and pharmaceutical consulting services, AmerisourceBergen delivers innovative programs and solutions across the pharmaceutical supply channel. With over $100 billion in annualized revenue, AmerisourceBergen is headquartered in Valley Forge, PA, and employs approximately 13,000 people. AmerisourceBergen is ranked #28 on the Fortune 500 list. For more information, go to http://www.amerisourcebergen.com.