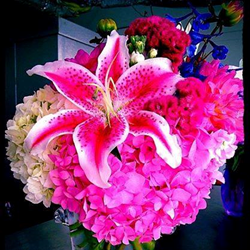 (PRWEB) October 22, 2014
Peachtree Petals, a recognized leading floral provider specializing in premium floral arrangements and floral services, announces its California Originals floral collection. The Inglewood florist makes the announcement in an effort to market its custom-designed floral arrangements, expand its customer base and increase service visibility in the region. Peachtree Petals strives to be the best choice in high-quality and custom-designed floral arrangements in the West Los Angeles and surrounding Los Angeles metro city areas.
The Peachtree Petals California Originals Collection consists of all of the florist's very own professional, custom-designed floral bouquets created by its in-house designers. The design staff has over 25 years of experience and love their craft, which has resulted in this wonderful collection of signature arrangements. Peachtree Petals is proud to design the most modern and superior arrangements that its customers deserve.
The entire collection has its own page and is accessible from the home page within the "Flowers" tab. The California Originals has over 40 different floral arrangements within the collection for its clients to choose from. An example of one of the California Originals is the elegant FanFare Bouquet. This breathtaking cluster arrangement is comprised of callas, snapdragons, tulips and hypericum berries, all nested within a modern tall glass square vase. It is finished with dark green leaf accents also. This stunning bouquet is only $149.99 and is perfect for any event or occasion.
Peachtree Petals West Los Angeles also offers same-day delivery of its superior floral bouquets for only $13.99. This is a standard delivery charge for its daily services. The florist also offers next-day delivery for $11.99. All orders placed by 3pm will be delivered the same day. From Westwood to stunning Santa Monica flowers, Peachtree Petals does it all. Customers can purchase their arrangements via phone or online for their same day Santa Monica flower delivery.
Peachtree Petals is a well-known leader of superior floral arrangements and a recognized Master Florist nationwide. From Hollywood Flowers to Bel Air flowers, Peachtree Petals is able to meet all of your floral needs. Peachtree Petals services a growing list of clients, including company floral subscriptions and weekly floral services. The company offers a simple approach to the floral industry, most notably, same-day delivery of all their floral arrangements in the West Los Angeles and surrounding Los Angeles metro city areas.