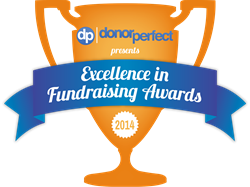 Horsham, PA (PRWEB) October 22, 2014
Five nonprofits were recognized with an Excellence in Fundraising Award during the annual DonorPerfect Community Network Conference (#DPCNC14). Constant Contact, a DonorPerfect partner for over 10 years, was the proud sponsor of awards. Here is the list of winners:
Fastest Growing Nonprofit - When nonprofits apply the best fundraising techniques towards their mission, they will grow.
Winners:

Best Donor Retention - It's much easier, cost-effective, and more sustainable for nonprofits to retain a donor than to find a new one.
Winner: Athenaeum of Philadelphia
Best Recurring Donation Program - A donor who gives regularly will most likely give more and remain a committed partner of a nonprofit longer than those who don't. Especially in times of uncertainty, recurring giving guarantees future revenue.
Winner: Fabretto Children's Foundation
Fastest Acknowledgements - Whether a nonprofit thanks donors with a handwritten card, a phone call, or an automated mail merge, the most important factor is that they send something and send it fast. This timeless appreciation for donors will continue to show just how much they mean to the organization, and is vital to maintaining a long relationship.
Winner: Bucks County Community College
About DonorPerfect
For over 25 years, nonprofits have used DonorPerfect to organize constituent data and have raised over $100 billion. At our annual DonorPerfect Community Network Conference, we awarded the best fundraising efforts of over 10,000 clients and 30,000 users.